Backlinks With Infographics? Using Comic Art For Link Building
Generate backlinks with comics and infographics. A good way to boost your website!
Five Movies In Five Panels: When Good Ideas Result In Good Link Building
It's no secret that Ben and I love ranking movies. One of our favorite activities at the end of the year is our annual compilation of favorite films. In 2017, we decided to do something a little more fun and turn five of our favorite movies into five panel comics; hence our Five Movies In Five Panels project. As we plotted out our favorite movies of the year, we recognized an opportunity: We could use these comics to go beyond our circle of friends and take advantage of the unique benefits that our film passion presented for both our business and our site.
Turning our favorite movies into visual comics would not only set us apart from the glut of year end lists; it would be a way for us to share some of our favorite movies with a wider audience and a valuable experiment in driving traffic to our website. Our love of movies would double as a test case for building backlinks to our site and finding a larger audience. There are plenty of very creative infographics that go viral, and in essence, Five Movies in Five Panels is a similar concept. As a good exercise in clarity, Five in Five challenged us to capture the themes, plot, and beauty of some of our favorite films in a clean and simple way.
If you're looking to see what a good piece of visual media (an infographic or a comic) can do for your website, we want to present our case study on the benefits of utilizing creative art. Five Movies in Five Panels was a success that went well beyond what we initially anticipated and we saw real tangible results that we want to share with you.
Steps To Creating a Great Comic (or Infographic) For Your Site:
Brainstorm An Idea For Your Site That You'll Love
Create A Simple Visual Infographic or Comic (or contact us)
Find Appropriate Sites That Will Host or Publish Your Piece

Brainstorm an Idea For Your Site That Your Readers Will Love
In my experience as an SEO, I can't underscore enough that the main focus of any website, business, or passion is your story. You have to ask yourself – why are your readers here in the first place? Ben and I envisioned our site to be an intersection of comics, movies, and our entrepreneurship. Any person who comes to our site should get a sense of who we are as people, whether they are a frequent reader or a prospective customer. As film aficionados with a passion for art, our rankings were just naturally something we loved to share. Going beyond our circle of friends to get our names out there was just a natural extension of what we were already doing. Ben has a pretty good thought on why you should pursue the creative arts as a career. Only do it if you absolutely can't do anything else. Imagine a scenario in which you know that you'll never get famous or make money--would you still do it?
With that in mind, we had several goals that we wanted to accomplish:
Celebrate Our Favorite Films
Showcase Ben's Comic Art To a Wider Audience
Drive More Traffic To Matsuya Creative
Gain More Social Media Followers
Improve our Search Engine Rankings By Building Quality Backlinks To Matsuya Creative
Gain more Freelance clients for our Freelance Art and SEO
Five in Five met all our criteria in a way that we could collaborate and have fun with the concept. Prospective customers and clients are always happy to see traffic, social media, and backlink growth, but you wouldn't be investing in a freelance comic page or infographic it doesn't convert to sales. A quality piece of art can do this in several ways: A client might see your content on social media or a referral site and contact you. If everything goes as intended, your website might increase several ranks due to your growing traffic and backlinks, causing a prospective customer to find your site organically in google.
It's important to remember that backlinks are not the story. I've seen a lot of entrepreneurs get untracked by targeting too much on the side effect and not the main goal. Your primary focus should always be creating something valuable for your business, your readers, and your customers.
Setting out to nakedly earn backlinks for linkbuilding's sake will often be too transparent, shameless, and a waste of time, money and effort. Serving great, useful content to your readers will bring much more value to your site and visitors. Each successive generation has been marketed to in increasingly sophisticated ways and audiences can sniff out inauthenticity. You can try building your brand out of a test tube – but if you're not creating an experience that's relevant – you won't really connect.
That's not to say you shouldn't do your homework before you set out to get your projects out there. Make sure to do the requisite keyword analysis and data research on your site to put yourself in the best position to succeed. But if you're going to invest in infographics, comics, or art, don't do it for the backlinks. Do it for your passion and the enthusiasms of your readers. Social shares, more page visits, and backlinks to your site are all positive byproducts of a great piece of content. But ask yourself: "Would I publish this piece on my site even if I didn't generate these results?"  A great piece of content should stand for itself and if the answer to my question is yes - you've got yourself a winning idea.
Create A Simple Visual Infographic or Comic (or contact us)
Admittedly, we have it easier than most as we have an artist in-house to create the comics. So we plotted out our favorite moments of each film and distilled what connected with us about some of the best movies of 2017.  We get into detail about our thought process and love for each film in our break down of some the films.
So how did we pick our movies? We wanted to advocate for films that we loved and could introduce to a wider circle. The films we love tend to have several factors working in their favor. Great storytelling is the most fundamental. Ben and I watch hundreds of movies a years; we're looking for confident storytellers who introduce that ever-elusive "cinematic quality" that crackles on the screen. While all movies are cinema, not all movies are "cinematic." Being fans of visual storytelling, we live for moments that really utilizes film techniques to their maximum capacity or challenges the constraints of the medium.
A perfectly executed long-take, a beautifully executed fight or dance scene, a sequence edited to make us see new perspectives, or an amazing monologue that brings you to tears – these are the moments that define a film. It's those rare moments that a shot, scene, or sequence so perfectly captures the film's soul and immortalizes it, that makes a great movie really special.  
It's not that we want a lecture or a sermon, but we also look for a movie that means something. The filmmaker should have a point of view - even if it is very general; every filmmaking decision should address that central premise. Those choices can be loud and brash or subtle and "blink-and-you'll-miss-it", but noting how a filmmaker employs the palette of cinema for a theme always makes a movie so fun to watch.
In doing so, we ultimately settled on Jordan Peele's Get Out, Guillermo Del Toro's Shape of Water, Bong Joon-Ho's Okja, Josh and Benny Safdie's Good Time, and Sean Baker's The Florida Project.
Trying to capture the heart, soul, story, and essence of each movie in five panels isn't a simple feat; doing so is an exercise in visual lucidity. Not only in this endeavor, but in any comic or infographic - simplicity and clarity are your best friends. Remember, this is going to be shared online - most people glance or skim the comics initially. Conveying your information or narrative is of paramount importance. With an infographic - it's best to communicate less than ten data points and keep your designs clean, easily readable, and simple. With a comic, you have a little more latitude. By its very nature, the Five Movies in Five Comics allowed for more details; people are already familiar with these films and spotting the touches is part of the fun. Make sure to consider which format makes more sense for your audience.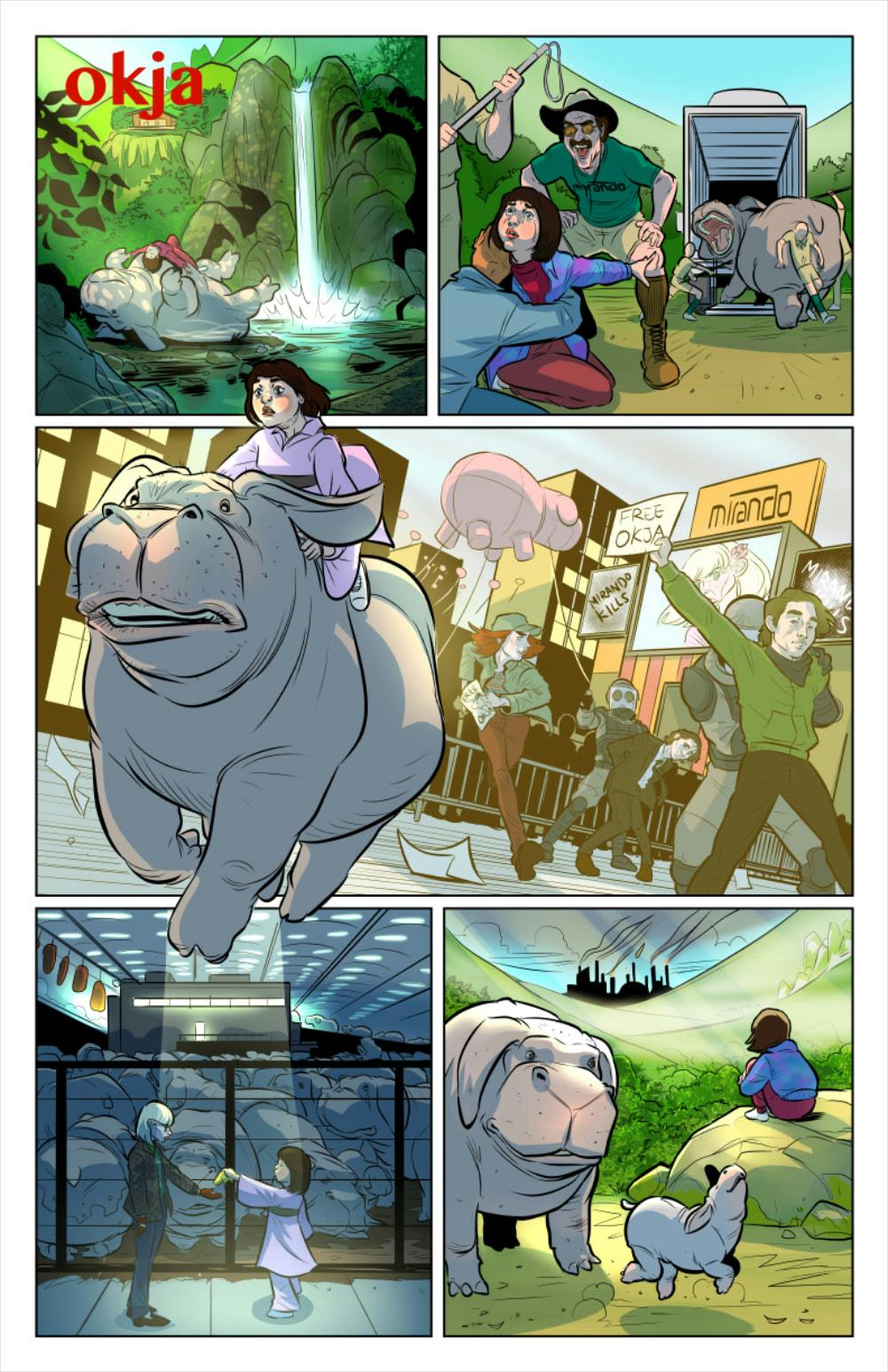 Find Appropriate Sites That Will Host or Publish Your Piece
After realizing that a common theme in the movies we selected was of an independent spirit, we pitched the idea to one of our favorite sites: Indiewire.com (full disclosure: I work with many of the great writers at IndieWire as an SEO). Indiewire wrote up a very flattering post featuring our comics on independent movies and with their active audience of film lovers, we attracted a lot of readers. We knew that IndieWire had an audience that was magnitudes larger than our own following and that it would be mutually beneficial to have them be a kind host for our Five Movies in Five Comics Series.
In my previous life as an in-house SEO, link-building and outreach meant searching for the best quality sites that could benefit from the content that we created. From data tools, to scholarships, to infographics, to blogs, we created content that spoke to our site's core competency and tried to find sites that would benefit from that content. Even before embarking on a campaign, I made a list of hundred sites and the appropriate point of contact to see if they would be good partners for our sites.
Ideally, a well-crafted piece will be able to stand on its own and attract its own attention, but the internet is so inundated with new content that sometimes it's a little hard to stand out. By partnering with the right site, we found a lot of sites doing write ups of our content without having to do a larger outreach effort.
When compiling a larger list for outreach, identify five top sites that are the best fit and have the largest potential impact on your site. Being a long time reader of IndieWire, I understood that our article would be a good fit. The spirit of the site valued independent content that was film-centric - and as much as we love these films - aside from Shape of Water, it would take odd fans like us to create a tribute to Good Time and The Florida Project. When vetting potential partner sites, I like to spend some time looking at what type of content they publish, particularly when it's from guests or about outside media. Taking a look at their social media will give you a good insight into what type of content (besides their own) that they frequently retweet or share.
If you're an independent site owner looking for metrics to a content pieces' success, you should look at traffic, social shares, backlinks, but most of all conversions. I sometimes ask my own clients - would you rather have five times more pageviews and twenty-five quality backlinks with zero clients or a two quality backlinks and four clients? Comics and infographics are good investments because there are many metrics for success; it all depends on your goals.
The Results
Five Movies in Five Comics quickly spread from IndieWire to other great sites. I've been a loyal listener of the slashfilmcast and an avid reader of their site since 2010, and it was a thrill to be featured on their site. Two sites that are mainstays for any film lover, Nerdist and i09, both reached out to us for interviews. We found our 5 Movies In 5 Panels featured in sites like Director Justin Lin's yomyomf, Geek Exchange, and even on Robert Pattinson Worldwide. One of my favorite links was from the site Garotas Geeks: even in another language, readers were able to quickly follow the story within the comic. An art page called Trunk Space reached out to us to profile Ben.
So what kind of results did we see?
We saw traffic to our site grow by an exponential amount year over year, and our site authority rise in rank from external monitors. We gained exceptional backlinks from reputable sites and saw a boost in the SERPs for many relevant keywords and phrases. Our social media presence increased. We were able to turn a bit of a profit by both selling prints of the comics on our online store and netting a couple new clients. Most excitingly— we got responses from some of our favorite filmmakers.
The Safdi Brothers (Good Time) and Sean Baker (The Florida Project), both commented about those pieces on Twitter. Having our tribute to these films seen directly by the filmmakers was an incredibly rewarding experience that made the series worth making. Our Five Movies in Five Comic Panels piece was one of the more fun projects we worked on - the project is still paying dividends months after the publish date.
Have an idea of your own?  If you are looking to create a one page comic or an infographic to help you stand out from the crowd in your own field, feel free to reach out to us. I'm sure we can collaborate to brainstorm the right content for you. You can read more details on our process of designing each piece and how we paid homage to each film. The concept of Five Movies in Five Comics really paid off for us in many different ways; let us come up with the content for your site that's meant to be seen and shared.
Lastly, if you liked some of the art you saw, please feel free to contact us for a print. We'd really appreciate your support! And as always, you can always contact us to talk about your favorite indie movies.