Publish A Comic Book: Q&A with Action Labs Submissions Editor Nicole D'Andria
Wondering how to publish a comic book? We interview Action Lab's submissions editor Nicole D'Andria for info on how to pitch your story and art to a publisher.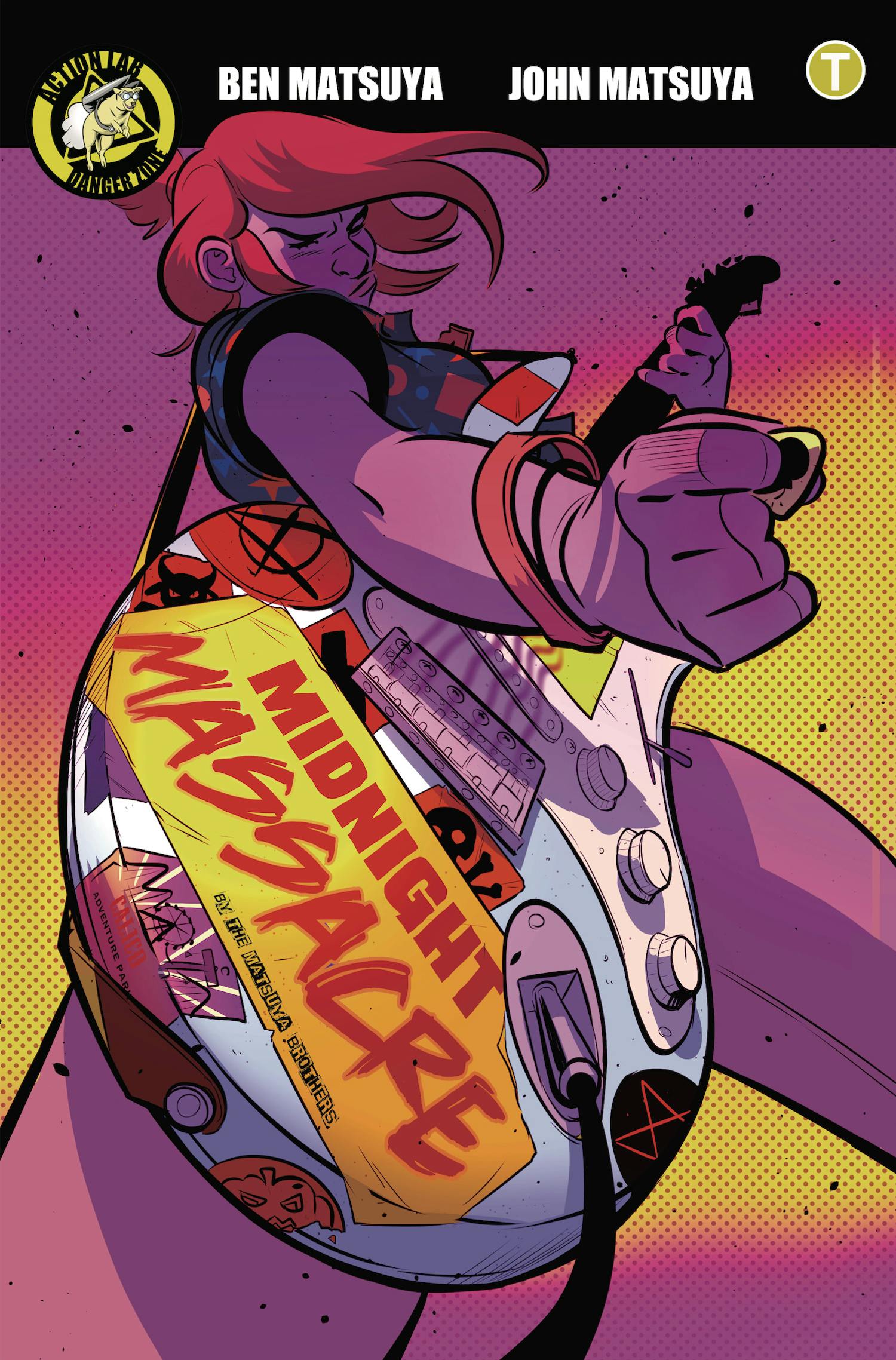 You've finished your story outline, your script, and maybe even the art for your comic book. All of those are huge accomplishments, but where do you take your story? That was a big question for Ben and I when we finished our first comic book Midnight Massacre. We were looking to publish a comic book and didn't know where to start.
Luckily, we found Action Lab Entertainment where we submitted our finished manuscript. There we met Nicole D'Andria, submissions editor, marketing director, fellow comics creator, and all around Jill-Of-All Trades. Nicole was our main point of contact and she helped us prep Midnight Massacre for both a digital and trade paperback release. 
Caveating the fact that every publisher has their own set of rules, we thought it would be nice to ask Nicole some questions about getting your comic book from your hard drive to readers. Nicole is not only a talented editor, she's uniquely qualified as a comics creator with her own project Road Trip To Hell as a storyteller. Please visit her official web site as well as her kickstarter bio page. 
Nicole was kind enough to field some questions and the following is an edited conversation with the comic book submissions editor herself.
John Matsuya
Thanks for taking the time to answer some questions! Let's cut to the chase: What advice do you have for someone looking to get their comic book to a publisher?
Nicole D'Andria
I recommend searching for lists of submission guidelines for comic book publishers and being sure to read every detail for the publisher you want to submit to. Some key things most publishers will expect within your pitch are things like an elevator pitch, logline, synopsis, and completed artwork. Make sure you personalize your email and tailor the pitch specifically to each publisher you're sending it to! 
For Action Lab Entertainment, in addition to a pitch with an issue-by-issue synopsis, page counts/total number of issues, and completed artwork, make sure you indicate if it's an Action Lab Entertainment (E-T) submission or Action Lab: Danger Zone (T+-M) submission, let us know how far along you are with the project, and when you expect it to be finished. When in doubt, I'm happy to answer questions for potential submitters at ndandria@actionlabcomics.com.
John Matsuya
What is a misconception or misconceptions that creators have about getting their comics published?
Nicole D'Andria
I'd say there are three misconceptions that I've had to tackle (for Action Lab) when answering questions: 
Misconception 1: There are plenty of people who think the publisher pays for their art team. For us, this is not the case. We pay for things like marketing, printing, distribution, etc., but not the creative team. Typically, I recommend Kickstarter to some creators struggling to find a way to achieve that first step of paying a creative team to make their comic a reality.
Misconception 2: This kind of ties into the first misconception, but writers sometimes think they'll be paid a page rate if their project is accepted. This is only true if we hire a freelance writer, but for creator-owned projects, the creator is paid a percentage for their project - not a page rate.  
Misconception 3: Creators often believe the comic will be solicited to Diamond immediately and come out quickly. We try to get each issue as soon as it's 100% complete onto comiXology as soon as possible; barring edits, this can take about two weeks. For a book to come out in print at Action Lab, it needs to be 100% done. This way, both the publisher and creators shouldn't face unexpected delays between issues. Life happens and it can be hard to reliably produce a book month-to-month if it's still in progress. Solicits are also far in advance; the day I'm answering this question (June 11th) is when solicits are due for October 2020 releases! Trade info for the book market, due at the end of June, is for February 2021 books! 
John Matsuya
You've recently started interviewing some creators for Comic Frontline's "Kickstart the Week". Is there a "secret sauce" for a successful Kickstarter Campaign? Is it about the rewards or having some of the project completed? 
Nicole D'Andria
Having affordable awards is definitely a key ingredient in the "secret sauce". It's important not to overwhelm your backers with a huge amount of reward tiers, especially early on in your Kickstarter experience. An option for at least one variant cover would be great if you can work it into your budget. Fun stretch goals can also be effective once you hit your goal mark to try and help your project flourish even farther. 
Personally, I always like to have my project 100% complete or as close to completed as possible before launching my Kickstarter. It makes the process a lot less stressful. But I've seen successful creators in various stages of completion with their projects. What's important is to communicate with backers and potential backers where you are with your project. Make sure to keep them up-to-date on your progress after the Kickstarter ends--don't leave them wondering where their books are! This helps create good faith in your Kickstarter and up your number of returning backers. 
One last thing is an eye-catching and informative Kickstarter page. It helps to have a cover and a handful of finished pages available to give backers a taste of what they're buying. Don't neglect an effective elevator pitch and bios for your creative team.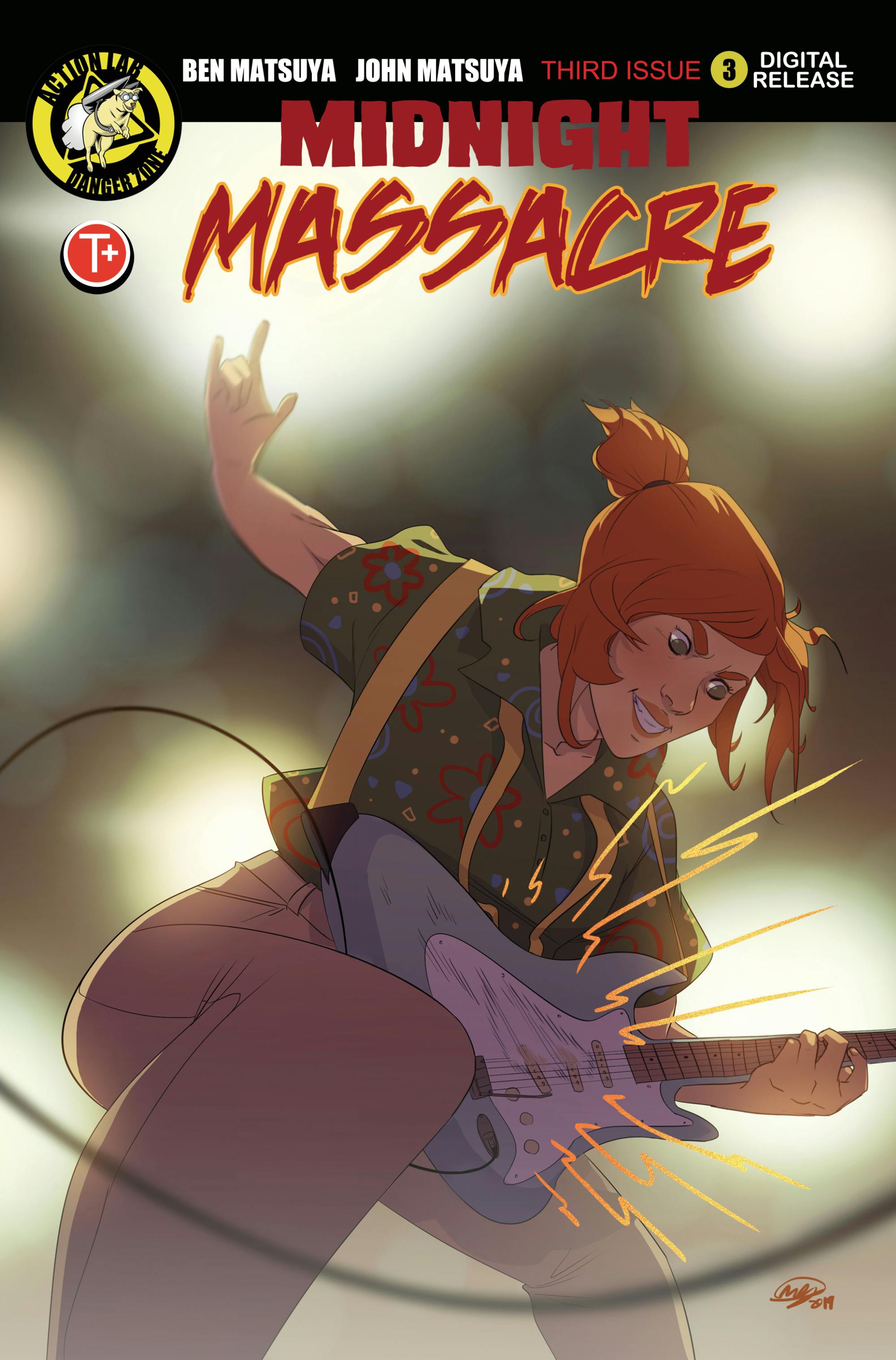 John Matsuya
What are the most helpful resources you've found for comic book writers and artists?
Nicole D'Andria
Jason Thibault actually put together an awesome list, "45 Essential Books for Comic Creators," and I think just about every book related to comic book writing that I've ever read is on that list, plus many others that I still need to check out. An important bit of advice I've heard: don't do so much research that you let it stop you from starting to write! The perfectionist in me used to never want to start writing until I knew everything, which is impossible no matter how much I wish it wasn't!
If you're a comic book writer considering crowdfunding, I highly recommend listening to James Tyler's podcast ComixLaunch. It provides such high-quality advice for campaigns that I utilized in my own Kickstarter projects.
But I think comics themselves are the ultimate resource for comic book writers. I can't tell you how, when I've felt burnt out or just needing a little inspiration, I could bounce back with so much energy after reading some amazing comics.
John Matsuya
What is Action Lab Comics looking for in an original story or comic? What kind of story tends to be a "good fit?"
Nicole D'Andria
We strive to find unique stories that offer something never seen before or provide a twist on a classic. Some tough sells are superhero and noir stories (black-and-white comics can also be a hard sell)… but that doesn't rule them out when you have something unique. Check out the brilliant Spencer & Locke, which creator David Pepose bills as Sin City meets Calvin & Hobbes, or Aberrant by Hollywood script-writer Rylend Grant, which incorporates thrillers, the military, and superheroes. I also love to see diverse stories with empowering themes, which I think are monumentally important in the comic landscape.
John Matsuya
Very much agree with you there. Can you give us one lesson from an editor's standpoint that would saves you a lot of trouble? Can you also give me one grammar pet peeve (team oxford comma, double spaces after periods)?
Nicole D'Andria
This may be an odd choice since it's not about the actual text, but it's how some people respond to my edits. I have worked with a lot of amazing people who feel the need to apologize or justify to me when they don't accept an edit of mine. This usually boils down not to a correction I've made in grammar/spelling but something story-wise they want to keep in, an awkward turn of phrase they've grown to love, etc. As a creator myself, I understand not wanting to change certain things that an editor might suggest removing. I want writers to know it's okay--it's your work and the choice of what you accept/reject from my edits is 100% yours to make.   
Grammar pet peeve… probably when ellipsis or double dashes aren't continued when they should be. Both also also tend to be overused, which makes it feel like every character is trailing off in the mid-speech because he or she sees something shiny.
John Matsuya
Hahaha! I plead guilty to the ellipsis. Speaking of editing, you gave our comic book - Midnight Massacre -  a pass. What was something about it that you saw as a strength?
Nicole D'Andria
My horror fangirl self is typically a fan of the genre, but horror can be a tough one to get right. What I think Midnight Massacre does really right is create a compelling lead character with Amy and putting her and her friends on a rollercoaster ride of not just events but also emotions. I enjoyed not having a sense of what was coming next and really rooted for them to succeed. Plus, I think the artwork fit the atmosphere of the book perfectly.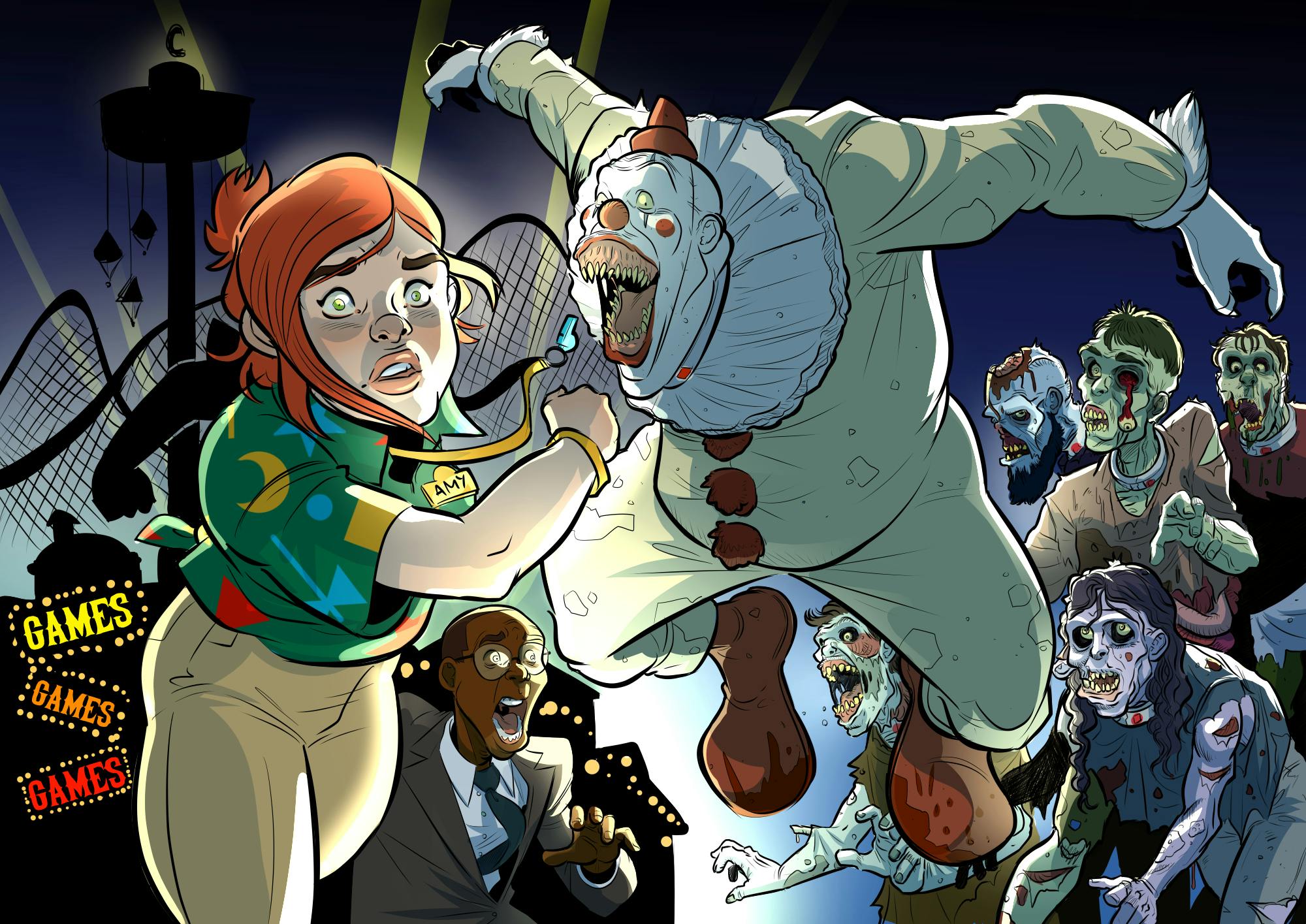 Midnight Massacre - our original comic - is available on Amazon, Barnes & Noble, and Independent Retailers today! (Shipping October 6, 2020)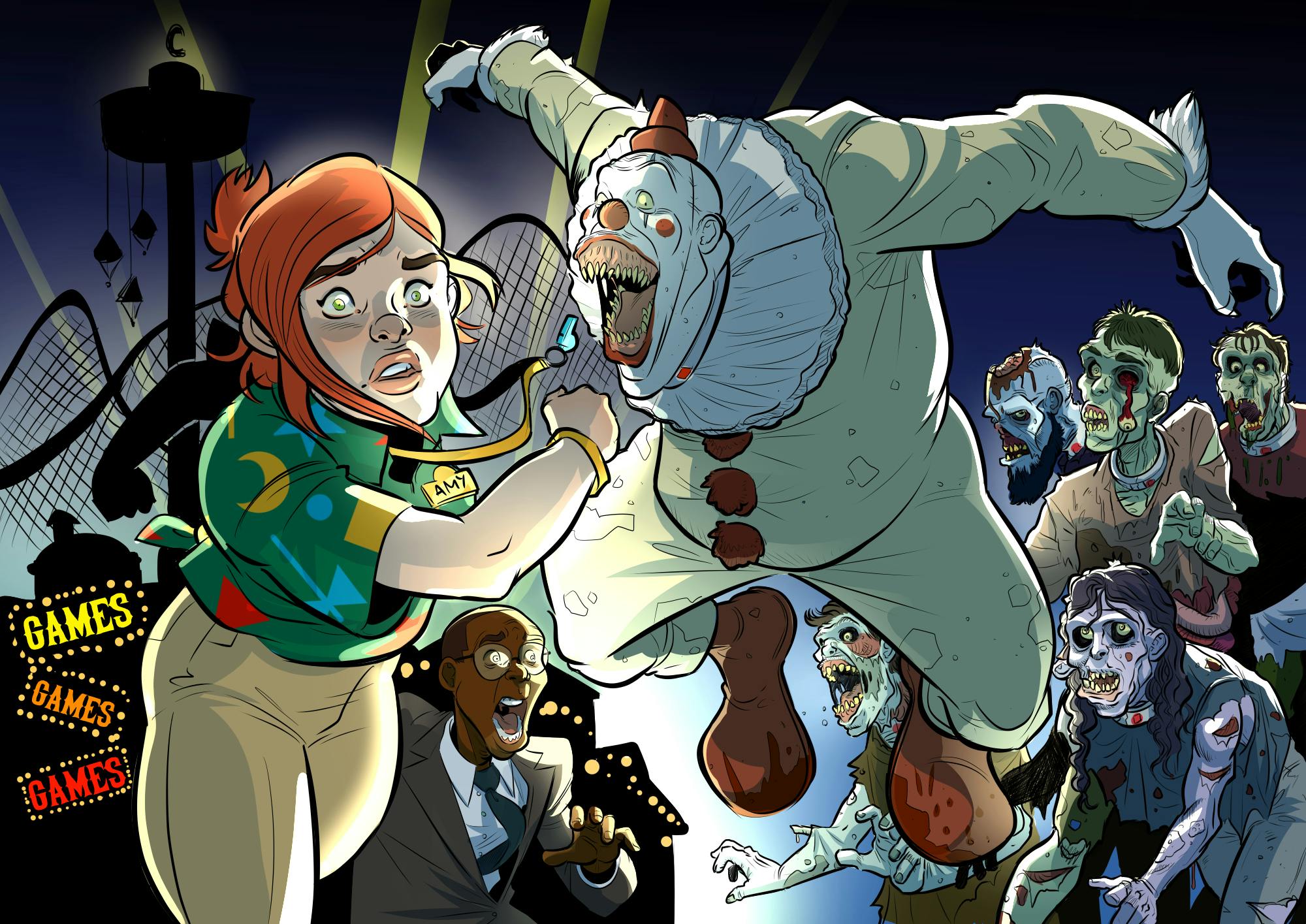 John Matsuya
Thanks so much for that! We worked very hard to craft a story that was both unpredictable, but made sense within the context of what we set up. Let's pivot to the next stage. We've submitted the comic, it's going to get published: What can comic book creators then do to promote their own stories?
Nicole D'Andria
Create social media tailored to your work. If you feel like you're spreading yourself too thin by using Twitter, Facebook, Instagram, Youtube, etc., focus on just one or two types of social media that you feel the most comfortable with. After you build a following, branch out from there. If you told me five years ago that I would prefer Twitter over anything else I would not have believed you, but that and LinkedIn have personally been my favorite social media sources. 
Reach out to comic book related sites and offer complimentary copies of your work for a review. Mention you're available for interviews! I also recommend creating business cards promoting your website/email and attending conventions, both as a consumer to get ideas for your own table/support the community and as a vendor to get the word out about your stuff!
John Matsuya
On that note, what are some Action Lab Comics properties that you would recommend?
Nicole D'Andria
Besides all of them, you mean? There really is something unique about every Action Lab comic and you'll never have the same exact experience twice! But besides the books I've previously mentioned...
Princeless and Raven the Pirate Princess are some amazing books if you're looking for some empowerment reading promoting women and LGBT+ communities in comics.   
For horror fans who couldn't get enough from the movies, Puppet Master is a fun series. And Midnight Massacre if you're looking for a book that could be a fun horror movie! 😉 Ooh, and Blu Lullaby, which sets up an interesting and intense universe. 
If you like a bit of cheesecake with your horror, the entire Danger Doll Universe lineup can be a lot of fun. When I began editing Zombie Tramp starting with Volume 9, I decided to binge-read the previous volumes and had so much fun with all the gore and humor. DollFace is also fun… though I'm a bit biased since I'm one of the writers on Volume 3.
Same bias goes for my recommendation of all our Miraculous Ladybug books, since fans of the show can get retellings of the episodes and original stories. Though I especially like the retellings since it is a great way for kids to learn how to read and get them away from the TV for a little bit! 
Lastly, a super creative book that I've enjoyed recently is the digital-first book Cut-Man, which has one of my favorite art-styles and story hooks. 
But I could go on all day!
John Matsuya
I want to ask you about your own comic Road Trip To Hell. Can you tell me a little about your experience and how it felt to be on that side of the table versus the editing side? 
Nicole D'Andria
Road Trip to Hell is one of the accomplishments I'm most proud of: the ultimate nature versus nurture story with blends of adventure, dark humor, and horror. I started writing it while I was still in college, which provided a great opportunity for me to use the first couple scripts as part of my capstone class for Communication Arts. So, I was able to workshop it with an entire class of writers.  
This may be a weird analogy, but it's almost like when I'm editing a project, that project becomes my niece/nephew. When I'm writing a project, it becomes my own child (and I'm definitely a helicopter parent when it comes to my own projects).   
Marco Maccagni recently finished the interior artwork on Road Trip to Hell #3, which is looking gorgeous! Hoping to have the entire issue finished and ready to launch on Kickstarter this year. If anyone's interested in that, please consider following my Kickstarter creator bio page! I'll also be appearing in a couple anthology projects, though I can't announce them quite yet!
John Matsuya
I can't wait! Who are some storytellers (writer or artist) that inspire you? 
Nicole D'Andria
Some of the creators who inspired me when I initially got into comics were John Bryne, whose Alpha Flight got me into hardcore comic book collecting, and Tom DeFalco, whose Spider-Girl run I fell in love with. Peter David has plenty of works I enjoy too, which makes the fact that I was able to work on adapting his novel Artful to comics even more meaningful to me. What really inspired me was how compelling they made their characters. 
One of my favorite artists (and writers too) is Stjepan Sejic. All his art blows me away, but I forgot how much so until I recently read Harleen, which he also wrote! The origin story he crafted there is super inspiration to me for character creation. Plus, whenever I enjoy a beautiful Artgerm variant cover, it inspires me to commission more variants for my own books. 
I also need to mention some of the comic creators who I consider friends and colleagues of mine who have always been so generous with their advice - in addition to their wonderful works - are the likes of Shawn Gabborin, Marty LeGrow, and Erica Schultz, to name just a few of the lovely people I've met in this community!
John Matsuya
Can you help our readers find you online?
Nicole D'Andria
I regularly write articles for Comic Frontline, which includes my Kickstart the Week series that features interviews with Kickstarter creators. I recently released Kickstart the Week: Interviews with Comic Book Kickstarter Creators Volume 1 on Kindle and Etsy, an experimental collection of these interviews with exclusive follow-ups. 
Readers can find an exhaustive list of the stuff I've worked on over on my website. I also have various social media handles, including Twitter, Instagram, Facebook, and connect with me on LinkedIn!
John Matsuya
Thank you, Nicole. We really value all your help on getting Midnight Massacre published and appreciate your taking the time to chat with me.
Want More?