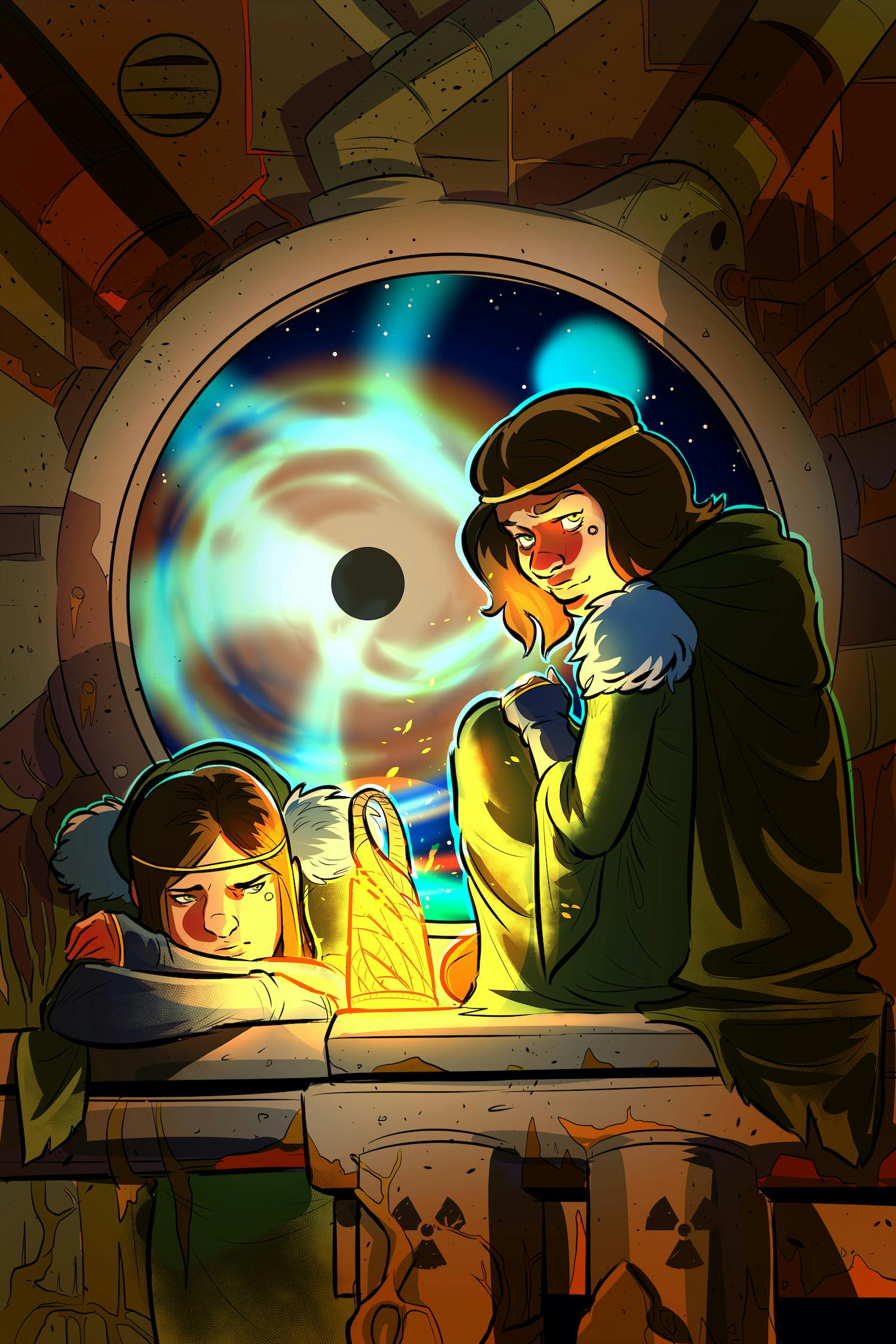 Cryowulf Comic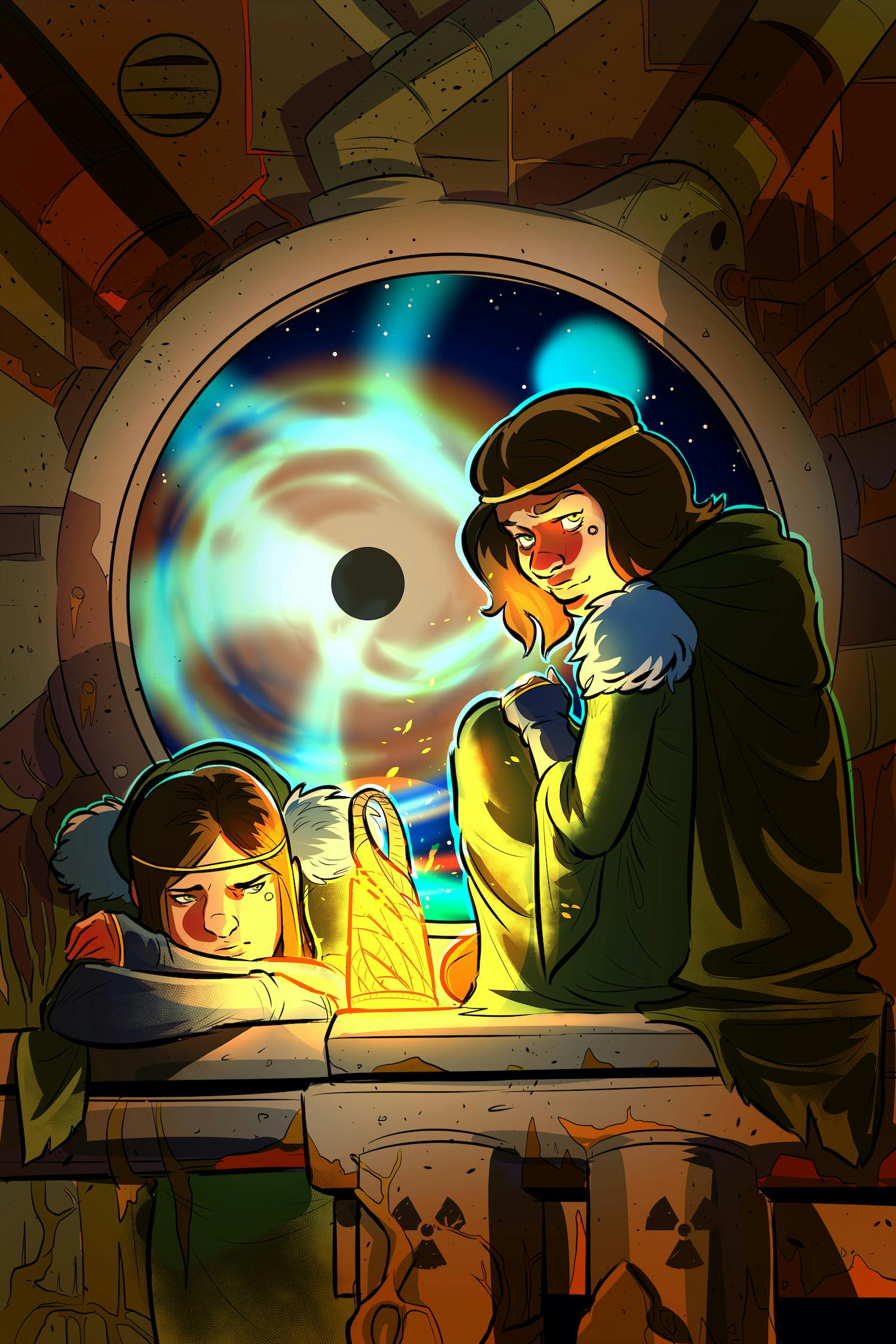 Cryowulf Comic
Cryowulf is a gender-flipped, sci-fi retelling of the epic poem, Beowulf. Set in a long abandoned space station, a matriarchal society sees its champion, Crow, rise to face a menace in its midst: the monster Grendel.
Writer Sam Roads brought artist Ben Matsuya on board to realize his vision. A successful kickstarter funded the preliminary art costs on Cryowulf. Issues 1 & 2 were completed in 2019 and are currently available for purchase.
---
Cryowulf Art
Modern Beowulf Retelling

Cryowulf takes its inspiration from the epic Anglo-Saxon poem Beowulf; however, in this retelling, writer Sam Roads transports our hero from Scandinavia to the outer perimeter of a black hole. Technology has lost a battle with primeval lore, superstition, and human nature. The space station has fallen into an atavistic state. In a matriarchal world, a young girl named Crow is training to become an Apprentice Keeper - one who learns the ancient traditions and ritual, which coincidentally keep the station running. In the following scene, Crow's training is interrupted when the leader of the tribe suggests Crow is not properly learning her path. Struggling against her pre-ordained order, Crow lashes out. Her mentor, Tawny Owl reminds her that her mother was also an Apprentice Keeper and a dreamer of greater things. As Crow storms out, her sister Raven is tasked with bringing Crow back. All the while, the tribe is unaware of a mysterious, dangerous, entity lurking on the ship named… Grendel.
Ben collaborated on Cryowulf with British storyteller Sam Roads. Cryowulf was initially a successful kickstarter project launched on September of 2018 to fund the project. Its fusion of European influences (both in traditional and comic art) and manga elements has earned Ben rave reviews.
Cryowulf Characters
Ben did both the pencils and the colors for Cryowulf. You can get a sense of his style and design in the character mock ups below. Crow is drawn as a headstrong dreamer. She is independent, but her youth was still important to convey in a softer, rounder face. Her posture projects strength and confidence. The garb she wears is not quite royal, but still elegant, as an Apprentice Keeper. The color palette is bucolic greens , browns, and blues that draw a sharp distinction with monochromatic space and the warmth of the fireside hearths that light the space station. The costumes would serve as a tie back to Beowulf and the era at the end of antiquity. The credit goes to author Sam Roads, whose world-building is so realized and satisfying that Ben couldn't wait to get to work on the next scenes.
If you have a comic idea and want to get a sense of how they will look on page, you can commission Ben to do initial character sketches and see if you want to progress with the project after some preliminary artwork. Contact Ben Matsuya for your character illustrations.
Swipe Below To See Crow in both Pencils/Inks and in Color.
"...the absolutely jaw dropping artwork from newcomer Ben Matsuya. The line work has this expressive quality to it, which means every character is beautifully realised and packed full of and life and energy."
— Alex Thomas; PipeDream Comics
"The artwork is lovely. Ben Matsuya's use of smooth lines, lots of round curves and bright colors brings the fantasy element to the forefront."
— KJ McDougall; World Geekly News
"I would be remiss if I did not extol Ben Matsuya's wonderful artwork. His character designs are delightfully expressive: Crow's sense of humor comes through her energetic faces and Prime Hawk's smarminess is perfectly expressed through a series of smirks and glares."
— Jonathan Hazin; A Place To Hang Your Cape