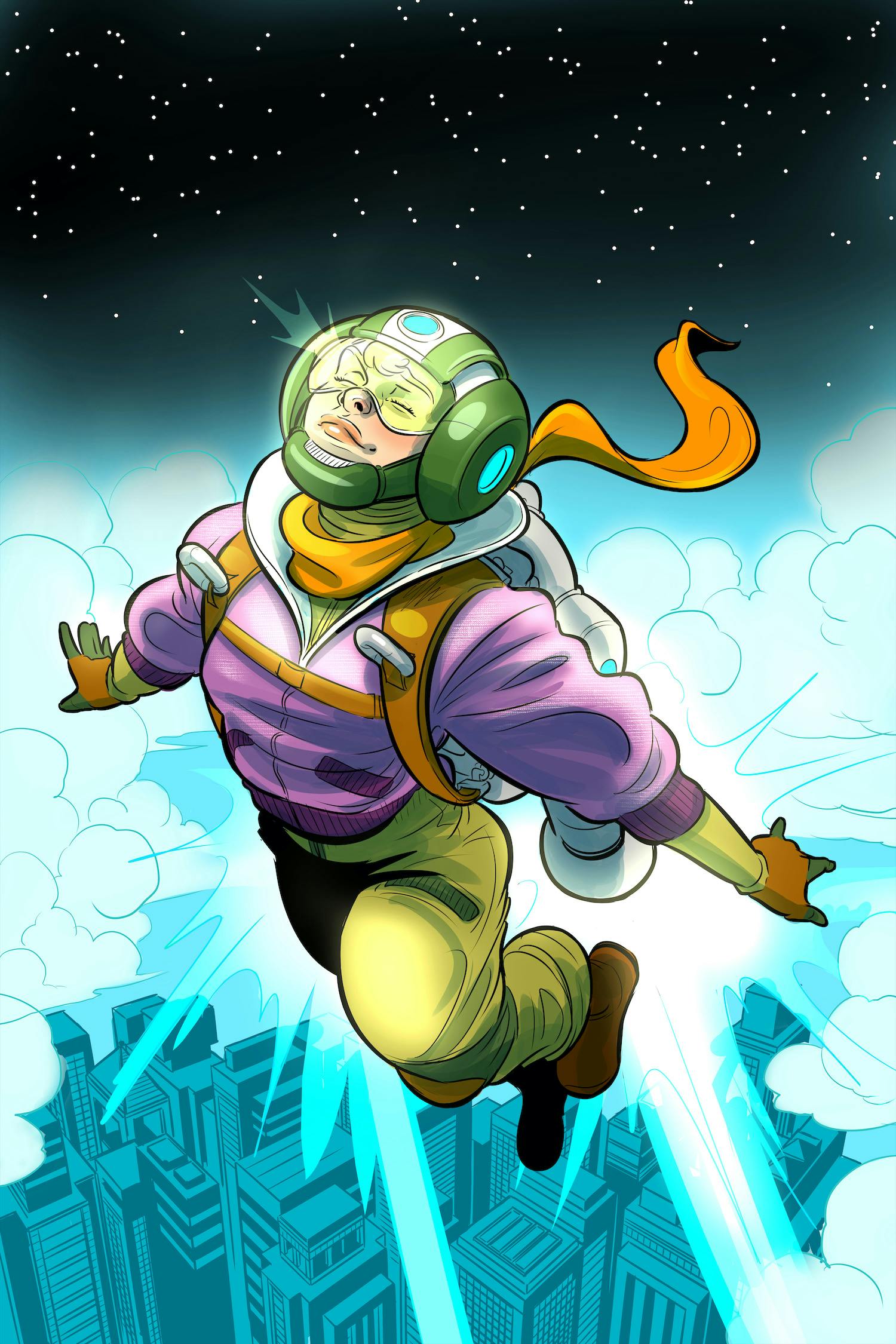 Jupiter Jet
By

Jason Inman & Ashley Victoria Robinson

Illustration by Ben Matsuya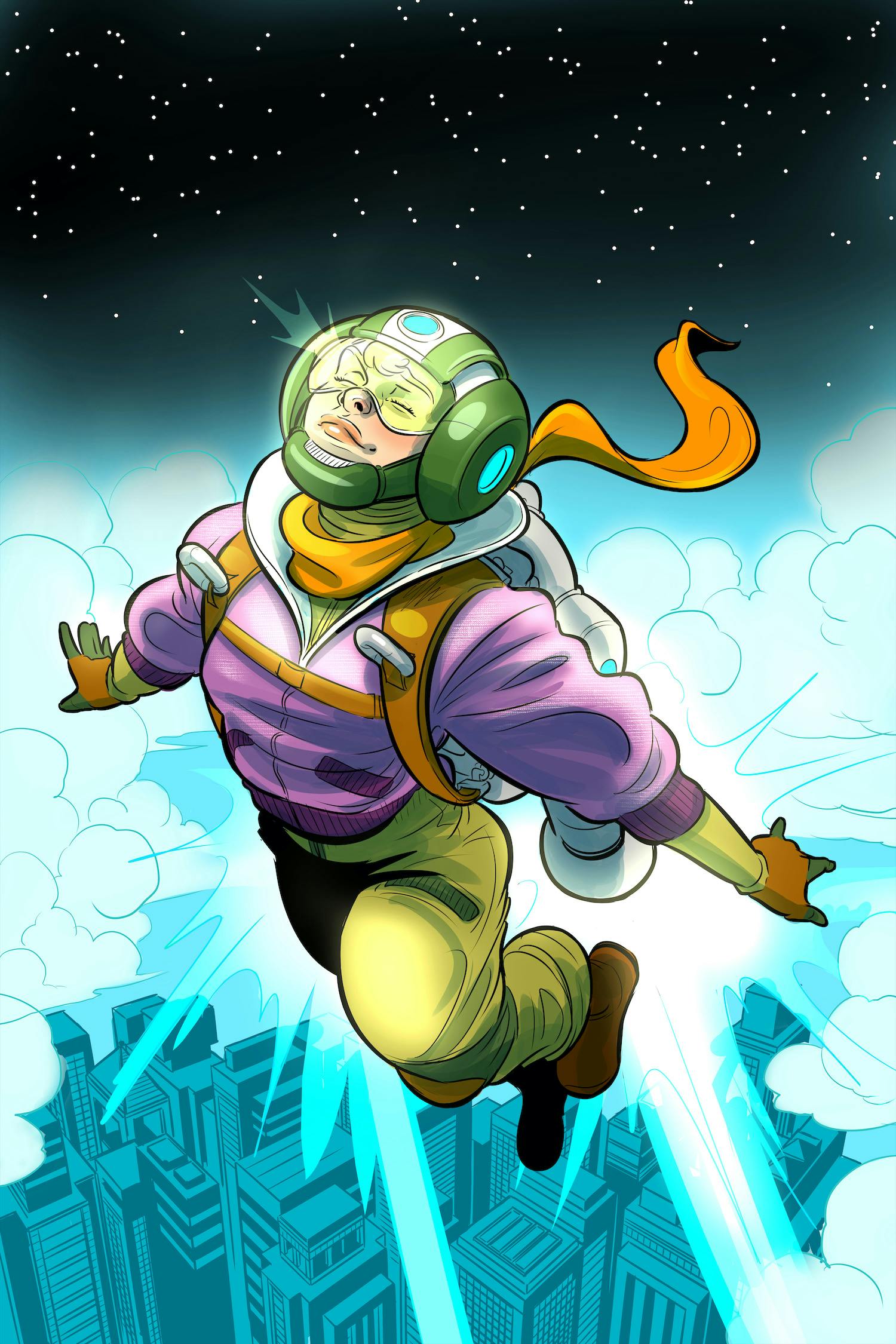 Jupiter Jet
By

Jason Inman & Ashley Victoria Robinson

Illustration by Ben Matsuya
A high-flying all-ages adventure, Jupiter Jet follows Jacky Johnson, a sixteen-year-old girl who discovers an experimental jetpack in her late father's workshop. With her brother Chuck, Jacky takes to the skies to keep her neighborhood safe.
Jupiter Jet is an all-ages comic book series with art by Ben Matsuya (Midnight Massacre, Cryowulf) and written by DC All-Access' Jason Inman and Top Cow Editor Ashley Victoria Robinson and published by Action Lab Entertainment. After a monthly run, Jupiter Jet was collected into a trade paperback. We're excited that this labor of love is now available for purchase as a digital comic and by graphic novel. A sequel, Jupiter Jet and the Forgotten Radio, made its appearance in December 2020 to soaring reviews!
Check out Ben Matsuya's original line art and then jump to more about the comic book creating process below!
Page Contents:
The Creators: Jason Inman, Ashley V. Robinson, and Ben Matsuya
The Characters: More on Jacky, Chuck, and Puddles!
Jupiter Jet Reviews: What are the Critics Saying?
---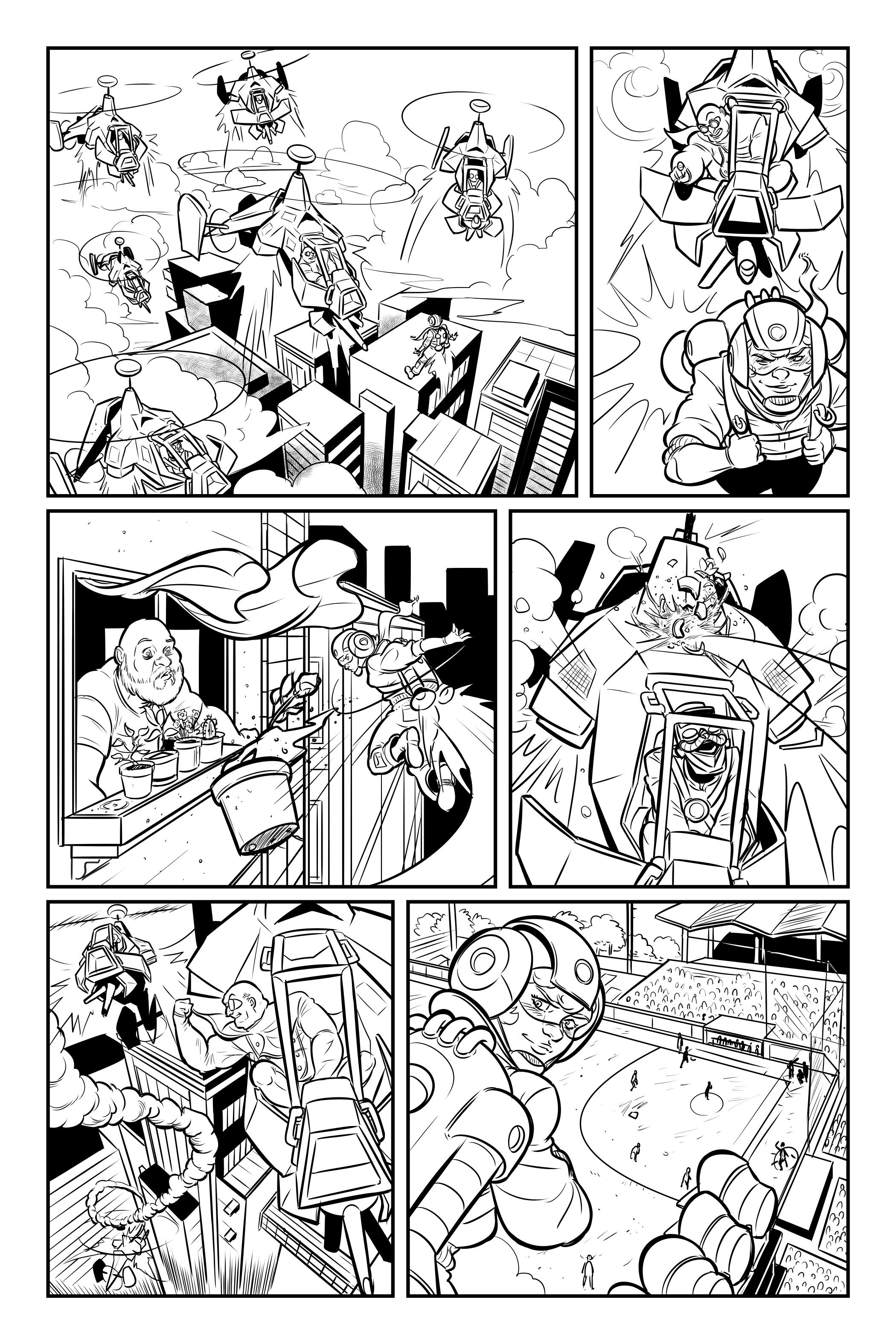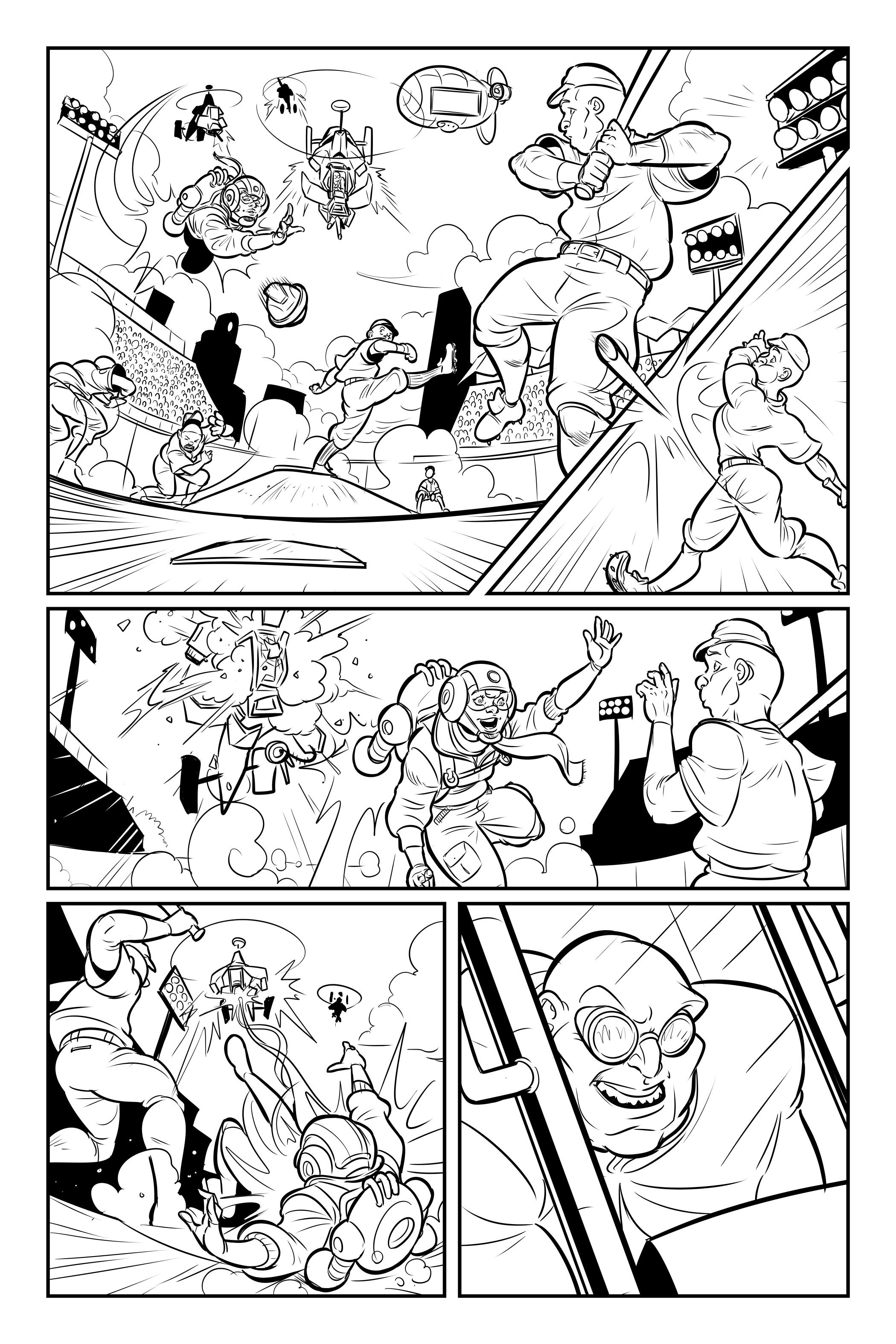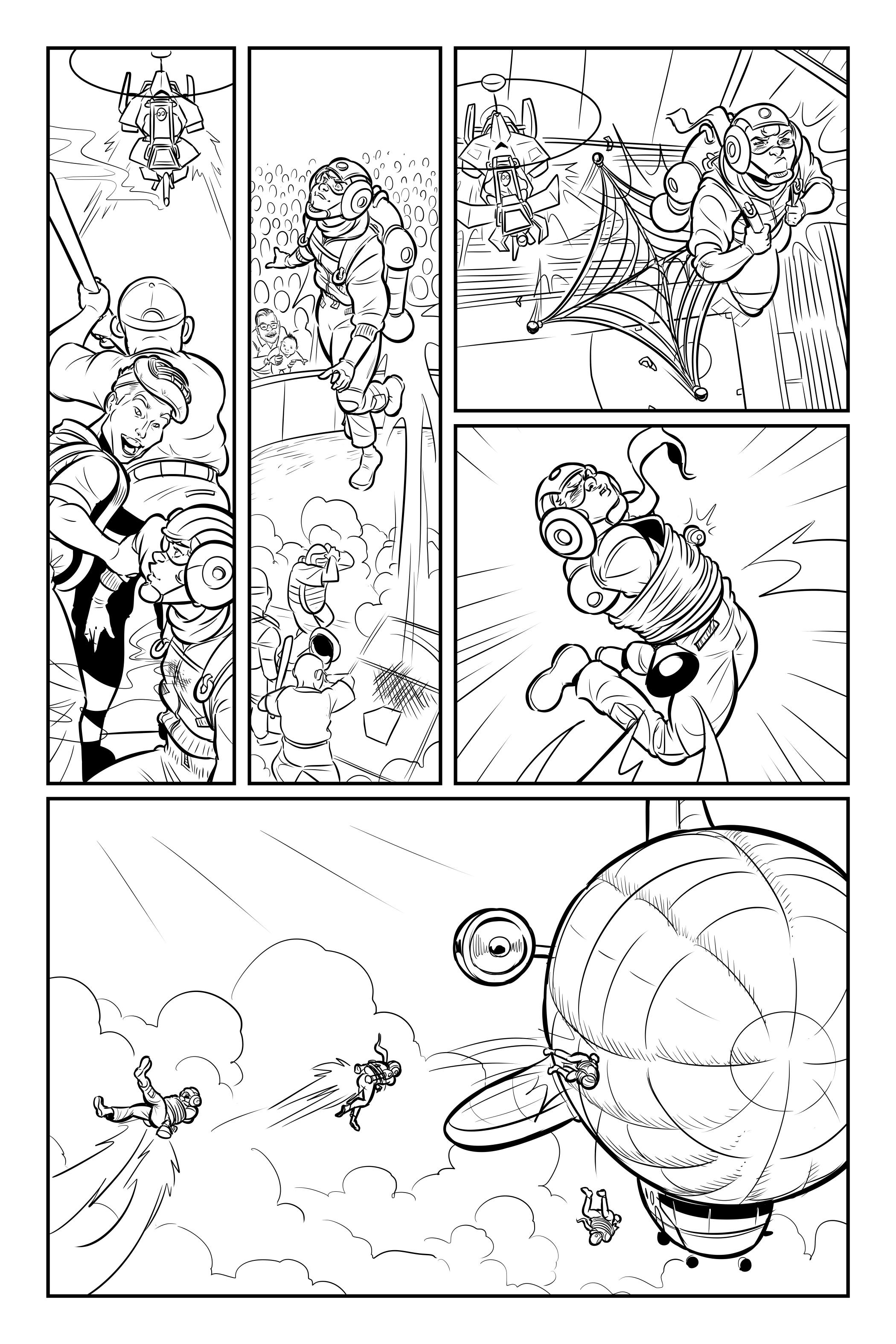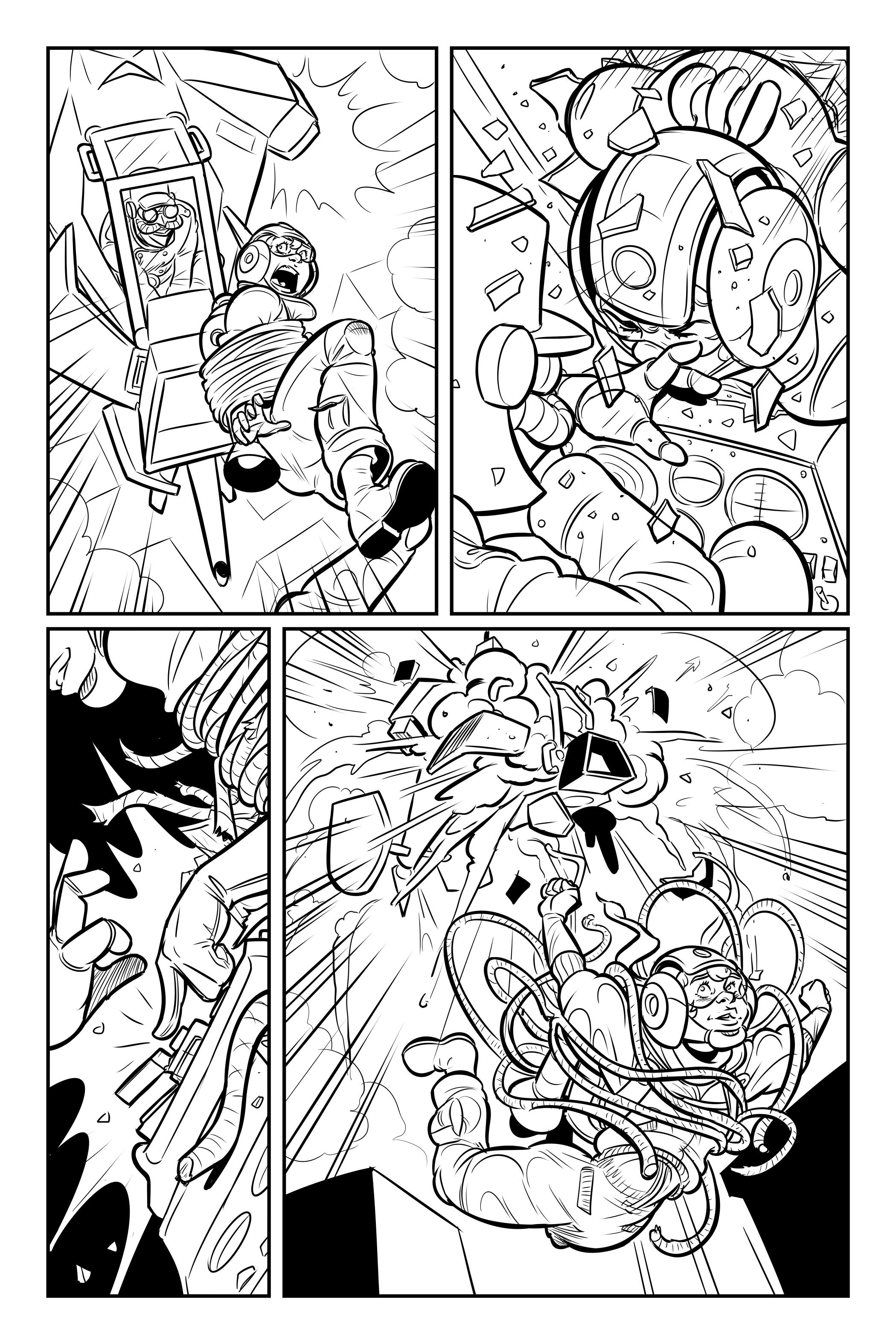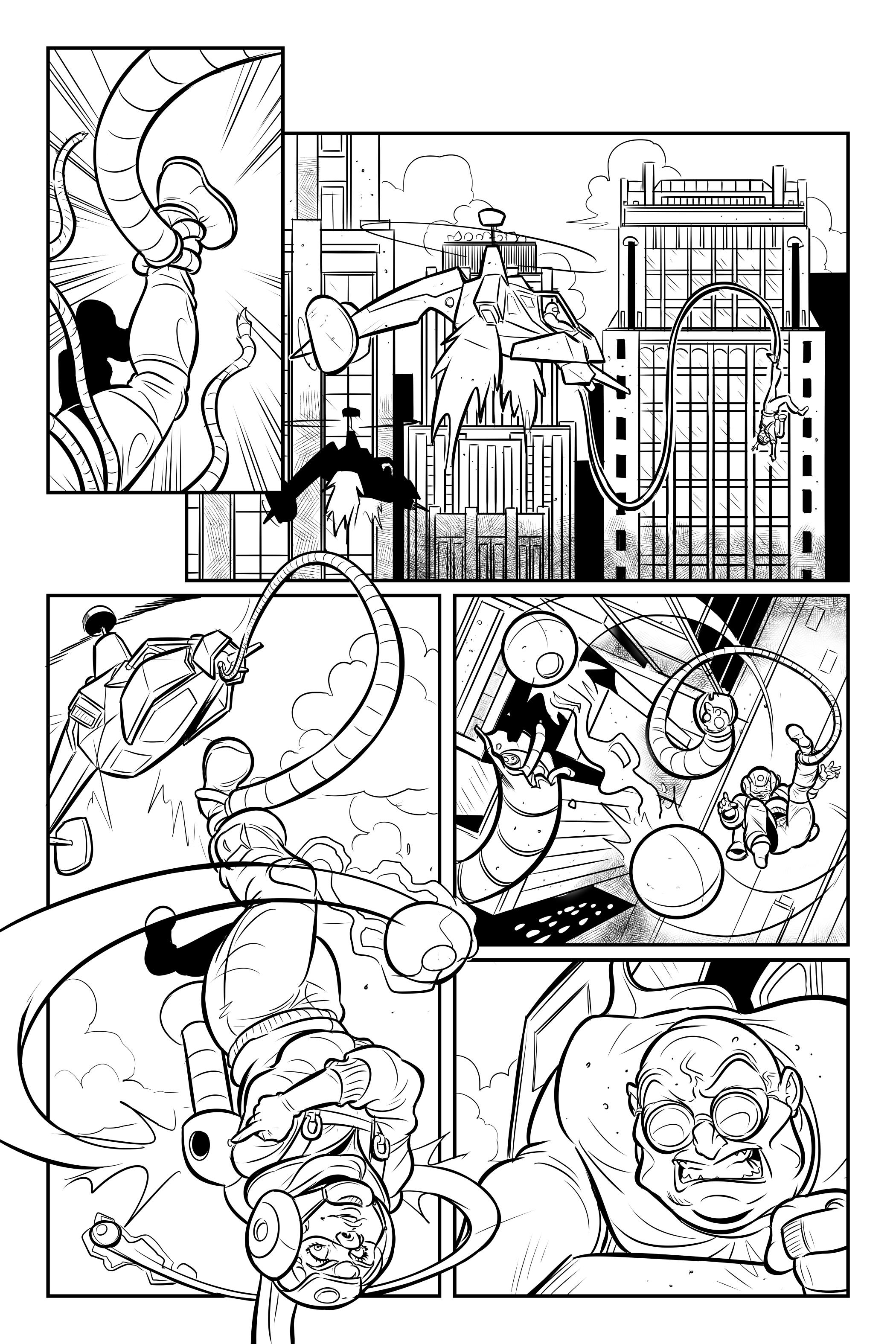 Jupiter Jet Story
What is evil's worst nightmare? A flying teenage girl!
Sixteen year old Jacqueline Jacky Johnson discovers an experimental jet pack. With the help of her inventor brother Chuck, she becomes a modern day Robin Hood - stealing from the rich to give to the poor. But all Jacky's heroics attract the wrong kind of attention, and soon the mob and a mysterious villain is on their trail. Over the course of the series, you'll see Jacky take flight and unlock the secrets of her past.
In this scene from issue five of Jupiter Jet, Jacky - also known as "the Flying Girl"- has executed one of her trademark rescues. Hot on her trail is Praetor Pluto - the mysterious evil being who desperately wants to down Jupiter Jet from the skies. Now in possession of one of his precious power sources, Jacky joyfully glides through the winds. The skies above Olympic Heights become the scene of a turbo-charged,  high-octane chase. Jacky takes cover in a local baseball game, cleverly using her surroundings to shake the villain and his lackies, the robot LeGates. 
When Praetor Pluto downs Jacky with a well-shot net, she bounces from blimp to chopper until finally breaking her restraints. A quick escape is never easy for Jacky and she gets snagged by one of Praetor Pluto's chopper tentacles. Her experimental jetpack proves versatile as she first a circular projectile to get free of her constraints.
Drawing an action scene is not as easy as it looks. Using the writer's script as direction, we must "stage the scene". Ben has an eye towards the geography of each setting so that we not only tell the story, but also to orient the reader in a space. Staging flying scenes requires a strict adherence to perspective. This specific action sequence is also a chase, so incorporating lot's of moving action like the baseball, the missiles, and the various mechanical arms add to the speed and frenetic energy of the sequence. 
Jacky is an optimistic and indefatigable character. Her resilience and joy needs to be on her face. Yes, this character is battling an evil nemesis and his goon squad, but she's doing it on her terms - never losing that sparkle. In each frame, Jacky's expressions tell the story. Ben's line art and pencils provides the foundation for the wonderful colors and lettering. If you choose to work with Ben, your final pages will look much like these ones above, with your notes and edits in the penciling stage. Jupiter Jet Volume 1 features many extras, goodies, and insights from drafts, to pencils, to inks. For a look at Ben's colors and lettering, please check out his work (along with lines) on Cryowulf. 
Jason Inman and Ashley Victoria Robinson
In the fall of 2015, Jason Inman and Ashley V. Robinson (Geek History Lesson) contacted Ben regarding an original comic book project. Ben has been a fan of Jason's work on DC All Access; Ben's original caricatures of the Screen Junkies crew caught Jason's attention. To fully fund the entire project, Jason and Ashley launched a successful kickstarter after paying Ben in advance for the first issue and character mockups. This allowed the team to quickly distribute the entire first issue as a reward. Jupiter Jet was then published monthly through the summer of 2017 for a five issue run. This was compiled into the first volume in December of 2017. 
Mara Jayne Carpenter's color brought Jupiter Jet to life. Jacky wouldn't be Jacky without Mara's attention to detail and nuances for the shades, shadows, and lights. Taylor Esposito of Ghost Glyph Studios brought the words to the forefront; lettering is an art in and of itself and to be featured alongside a master like Taylor is such an honor.
One of most satisfying aspects about working in comics is the ability to bring a fellow creator's vision to life. Illustrators are in that wonderful position to assist a writer's dream, while also building the illustrator's career. The fates and interests of the writers and artists are aligned. As creators and storytellers ourselves, we take very seriously the time and commitment you put into your own projects. Ben Matsuya had this to say: "Working with Jason Inman and Ashley Robinson, quite honestly changed my life. They gave me a chance to be a published an artist; treated me not only as a professional, but as a member of the team. Being the illustrator on Jupiter Jet is an experience I will never forget."
In 2017, the creative team took Jupiter Jet to Comic-Con, where it sold out of its first run at its official signing. As a bonus, you can also see Ben's Comic Con Portfolio Piece that year on a young Clark Kent. 
Jupiter Jet Characters
Swipe through the Jupiter Jet image gallery!
The Jupiter Jet universe is a rich throwback to a retro-1930's/40's with a touch of steampunk. We populated Olympic Heights' Art Deco world with characters just as fun as the city itself. Flip through our sketch gallery at some of our early models and final sketches. Character design is an art in and of itself; Ben will take notes and do passes to ensure sure that each character's presence complements the themes, storytelling, and relationships to other characters. The characters are the first part of bringing your story to life and Ben will work tirelessly until you're completely satisfied with the way they pop off the page and screen. 
Jacqueline "Jacky" Johnson; Jupiter Jet
Described in the original briefs as "a reckless, fearless, sixteen-year old pilot", Jacky was drawn as a hero with boundless enthusiasm. Ben Matsuya's designs illustrate that Jacky is driving the story, the script, and the jet pack. Her early costume is homemade and piecemeal, reflecting flight jackets and uniforms from the 1930's as well as her improvisational, "beginner" approach to her superhero activities. Jacky is always on the move and her expressions convey a gritty determination, ebullient joy, and a kindness. Throughout the comic and through Jupiter Jet herself, Ben showcases the optimism of Golden Age Comics with an accessible and identifiable style to young readers. In his interpretation, the joy of first flight would be akin to the joy of discovering a new comic for the first time. For an artist to spend this much time with such lovable characters is a dream come true.
If you're looking to embark on your own comics journey, a great place to start is with the characters. Contact us today for a quote on character designs and to launch your comic today!
Chuck
The boy genius, Chuck, is Jupiter Jet's kid brother and inventor. A mad scientist in the workshop, he's always tinkering with some new piece of technology. He's stubborn, tenacious, and even a bit goofy. His "tough guy" attitude masks his love and adoration of his personal hero who also happens to be his sister. Always covered in dirt and grease, he knows his ability means his sister's survival… a point that Chuck takes seriously. 
Praetor Pluto
The sinister and mysterious Praetor Pluto has the Olympic Heights Police eating from the palm of his hand as well as the entire crime underworld, robots, and rayguns… but to what end? Imposing and sinister, Praetor Pluto is a brooding villain with only hate and scorn in his eyes. He is physically intimidating and uses his bulk to get his way. His style can only be described as authoritarian. Ben wanted a physical contrast between himself and the much more deft Jacky. 
Chuck's Cat 
Chuck's cat, Puddles, is his constant companion and a key part of his work process. When Jupiter Jet hit its Kickstarter goal, the creators wanted to offer a stretch reward. They commissioned Ben to do a limited edition of Chuck's trusty feline friend. At Matsuya Creative, we are pet people and love cats. How can you resist this orange Turkish Angora?
As Jupiter Jet started out as a Kickstarter, Jason Inman and Ashley V. Robinson were able to get artists to do variant covers and prizes for hitting goals. One of the more personal thrills - for an illustrator- is to see great artists that you admire like Nicola Scott, Jonboy Meyers, Baltazar, and Jorge Corona draw and reinterpret your characters.
Jupiter Jet Reviews