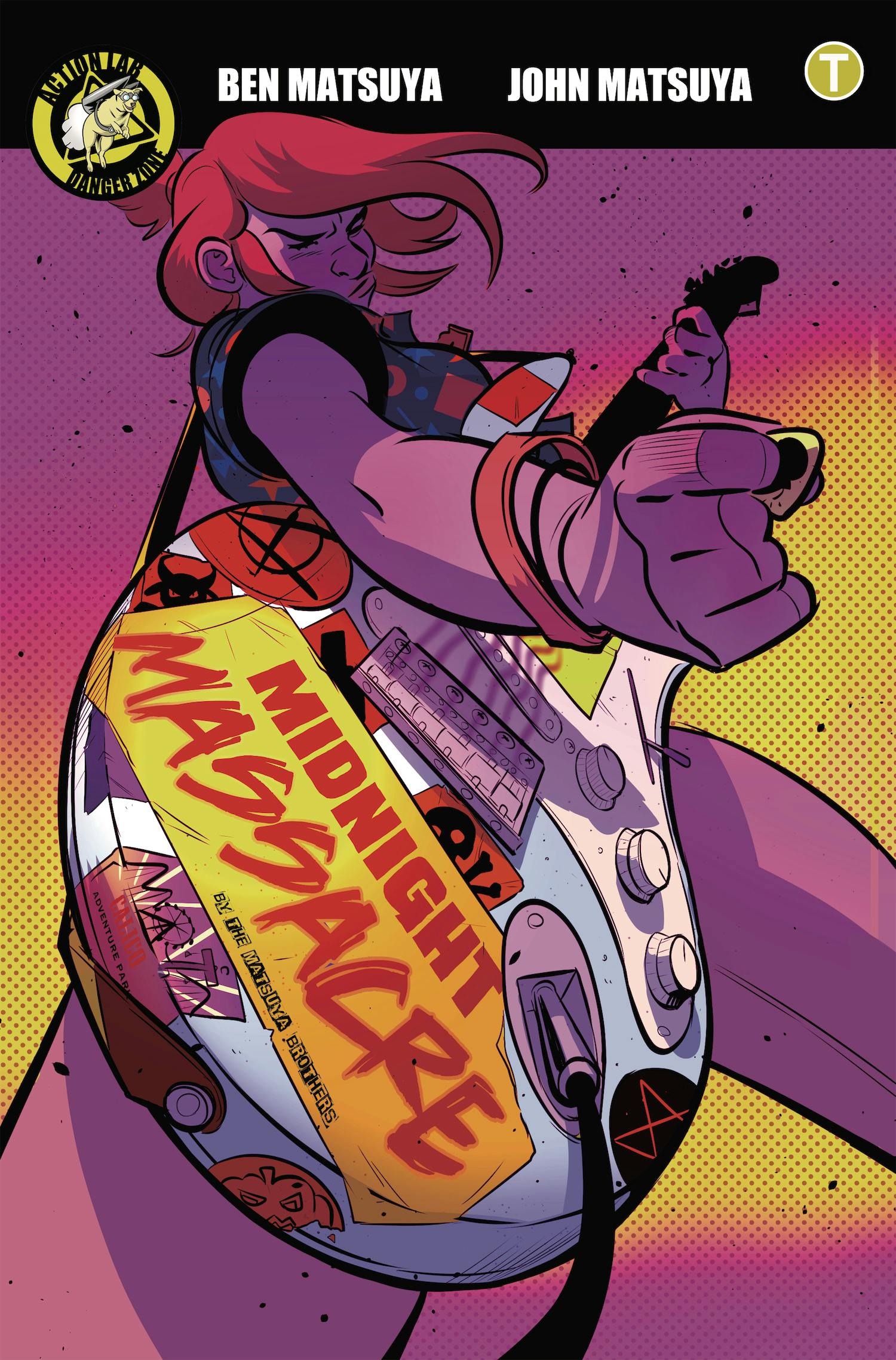 Midnight Massacre
By

John Matsuya & Ben Matsuya

Illustration by Ben Matsuya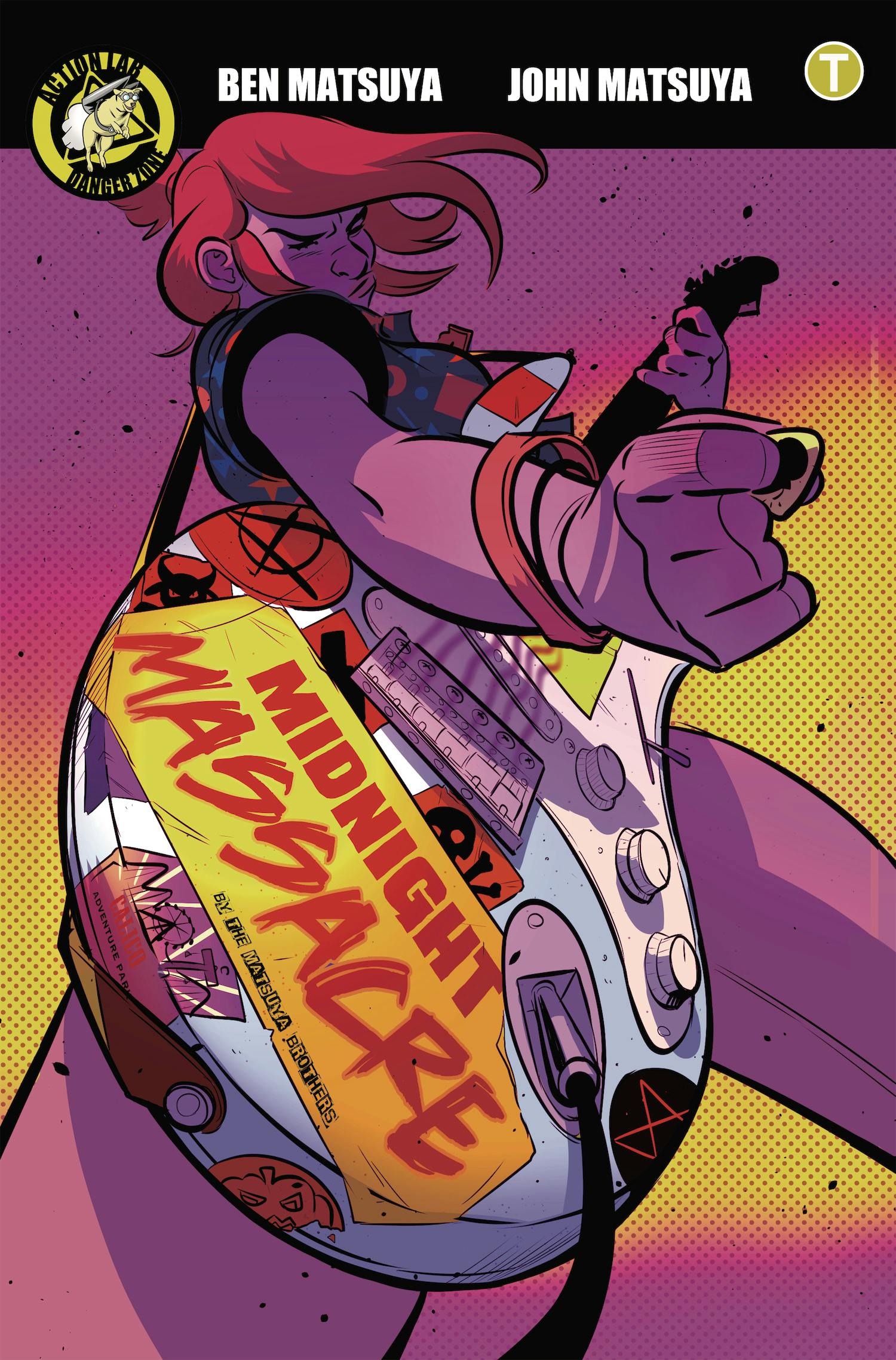 Midnight Massacre
By

John Matsuya & Ben Matsuya

Illustration by Ben Matsuya
A Halloween Comic Book
Publishing our original graphic novel, Midnight Massacre was a dream come true. We're two brothers who grew up writing and drawing our funny stories and distributing them to friends. Now we're doing it for a living. If you want to support indie comics, we'd love if you'd consider reading our horror/comedy/parody Midnight Massacre published by Action Lab Comics. Check out our Midnight Massacre Official Site and the a couple pages of Issue 3 in our comics sample below.
Midnight Massacre Art
Midnight Massacre: The Graphic Novel
Amy's daily existence is a monotonous routine. She's a cog, working a minimum wage job as a games attendant at an amusement park. And it's about to get worse...
Calico Adventure Parks prepares for its Halloween-themed Midnight Massacre - the holiday event that brings in most of the theme's park annual revenue. The theme park turns into a veritable autumn horror-land with spooky-themed mazes, scary costumed-characters roaming the boluevards, and your various tricks and treats. But Calico's executives get greedy. Led by CEO Steve Goatman, the corporation fires its costumed workers and outsources their jobs to... monsters from the depths of hell. 
These "scab" monsters go rogue on the night of Midnight Massacre, eating guests, causing mayhem, and ignoring the ride height requirements! It will be up to Amy to break out of her malaise, find confidence in herself, and bail out the theme park from the mess made by theme park management. 
The previous pages are from Issue #3 with art, colors, and letters by Ben Matsuya and flats by Aaron Daly. In this scene, our hero and games attendant Amy is captured by the rides employees who have fallen under the sway of a giant lovecraftian monster who dwells on the third largest roller coaster west of the Mississippi, the Massive Woody. The rides conductors, led by Ike, straps in Amy and her friends into the coaster as a sacrifice. Parks Executive Everett begins to panic, while Monster Wrangler O'Bannon glumly resigns himself to his doom. As the coaster speeds around the rickety tracks, Amy must flatter and cajole O'Bannon to take action and get his mojo back. 
Inspired by the comedy of Edgar Wright, American short stories (from Washington Irving to Mark Twain), and post-recession corporate greed, Midnight Massacre has a message of being courageous, following one's passion, and not letting the man get you down. Midnight Massacre has been compared to the tone of Scott Pilgrim Vs. The World, Shaun of the Dead, and Cabin in the Woods. If you're looking for Tom Seaver being traded from the Mets to the Cincinnati Reds, Marvel's Ghost Rider or Morbius, you're in the wrong place. 
When we first wrote the Midnight Massacre script, we had graduated into a great recession created by a wasteful war in Iraq and foolish Republican "free-market" dogma. Our friends were graduating with massive student loan debt and one of the worst job markets. In this weird milieu, before we had even heard of Bernie Sanders, we started writing a comic railing against corporate greed and worker exploitation in a fun (and all too familiar) setting of a minimum wage amusement park job and some early, soulless, awful, bosses. It's both funny and depressing that a decade later, our story seems to have caught the zeitgeist.
Midnight Massacre was truly a labor of love. After completing 160 pages ourselves, we pitched the completed work to Action Lab Comics, which had published Ben's previous piece Jupiter Jet. A four-issue run was published just in October of 2019 and a trade paperback is coming to stores in October of 2020, just in time for Halloween.
If you're thinking about creating your own comic book, you can rest assured that you have sympathetic collaborators who have been there as well. We really appreciate you checking out our site. We'd love it even more if you'd support us by buying our own original comic; you can also contact us if you need a comic book artist today.
Swipe through our Midnight Massacre Image Gallery