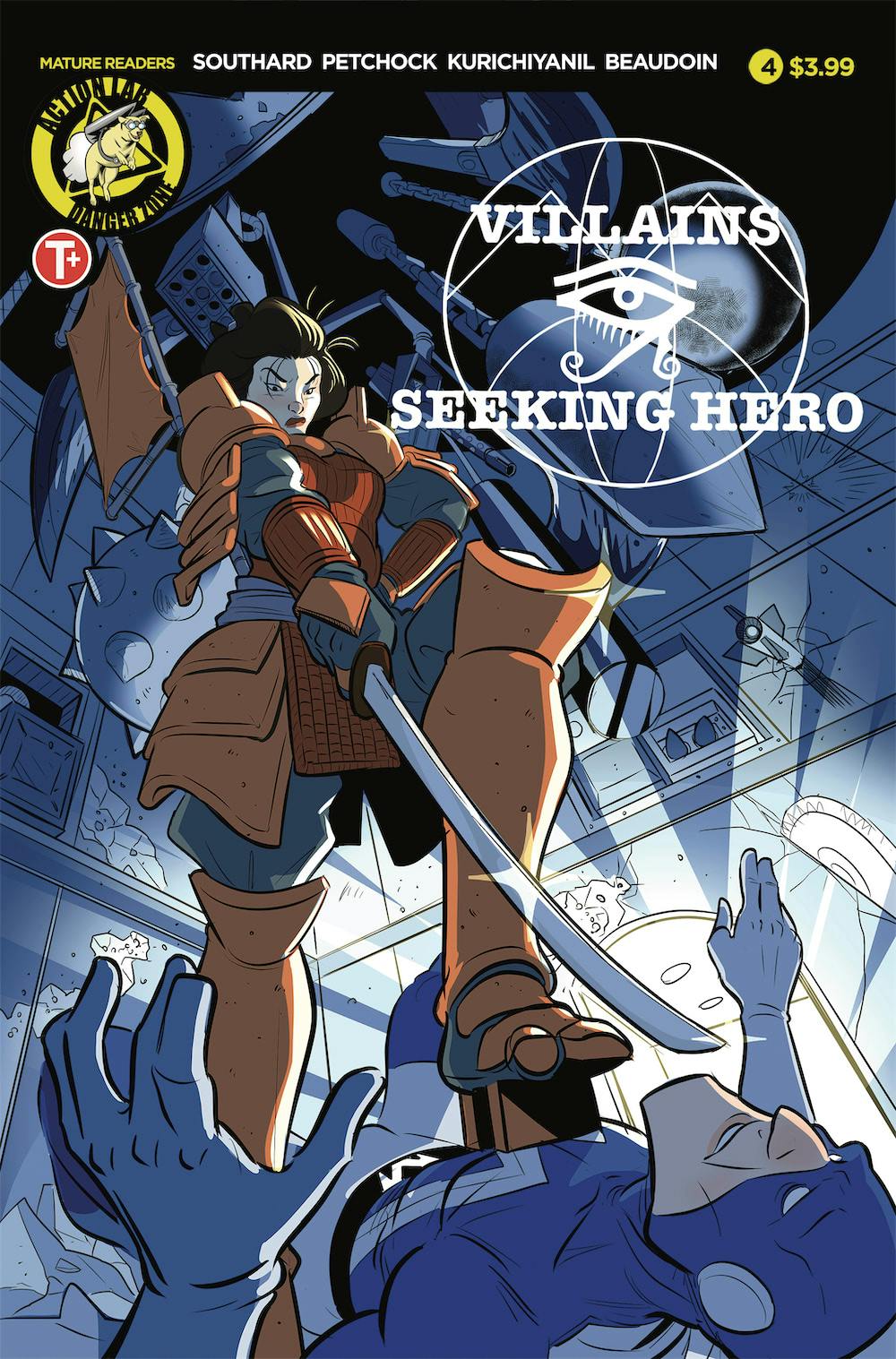 Villains Seeking Hero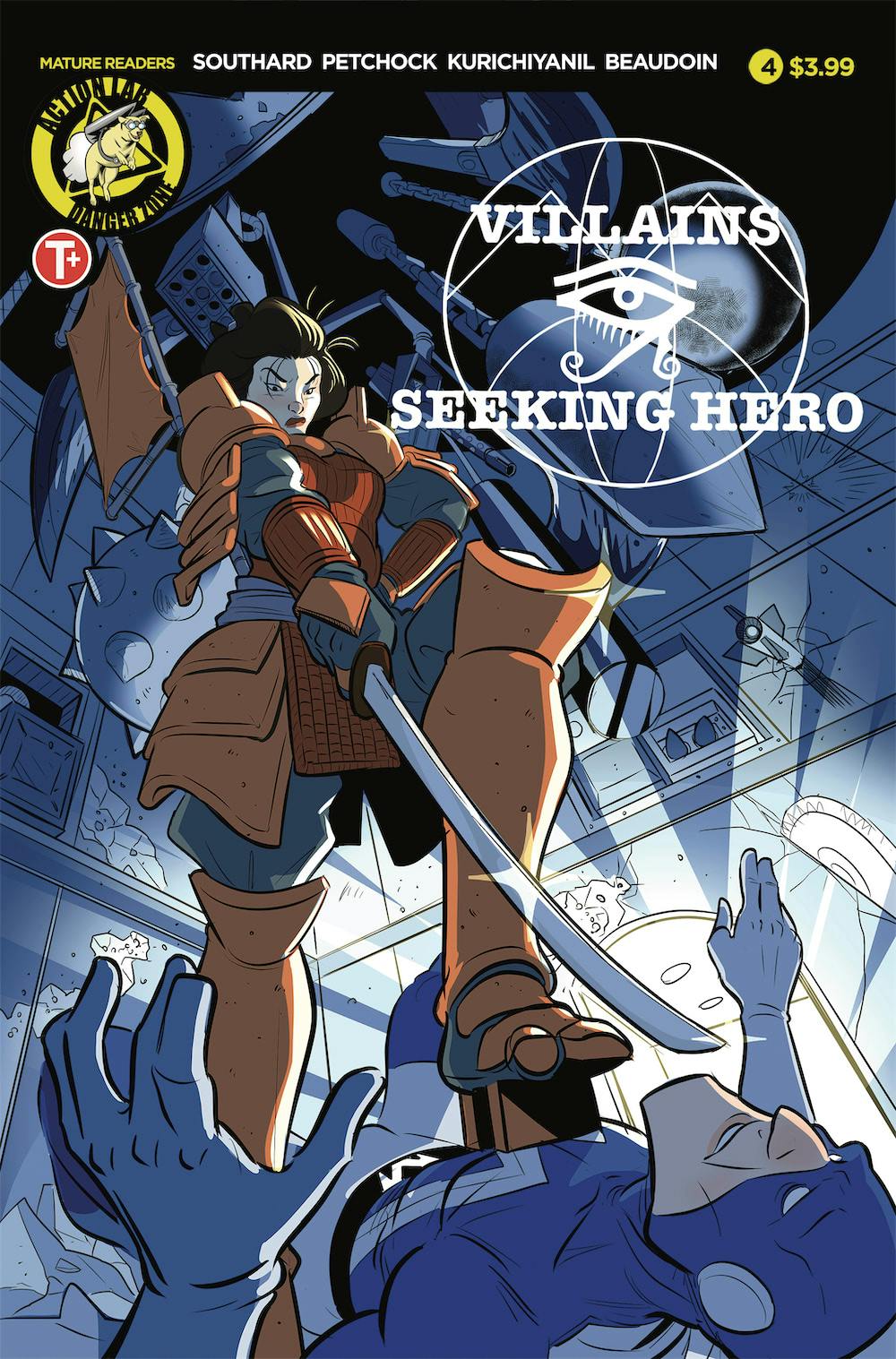 Villains Seeking Hero Comic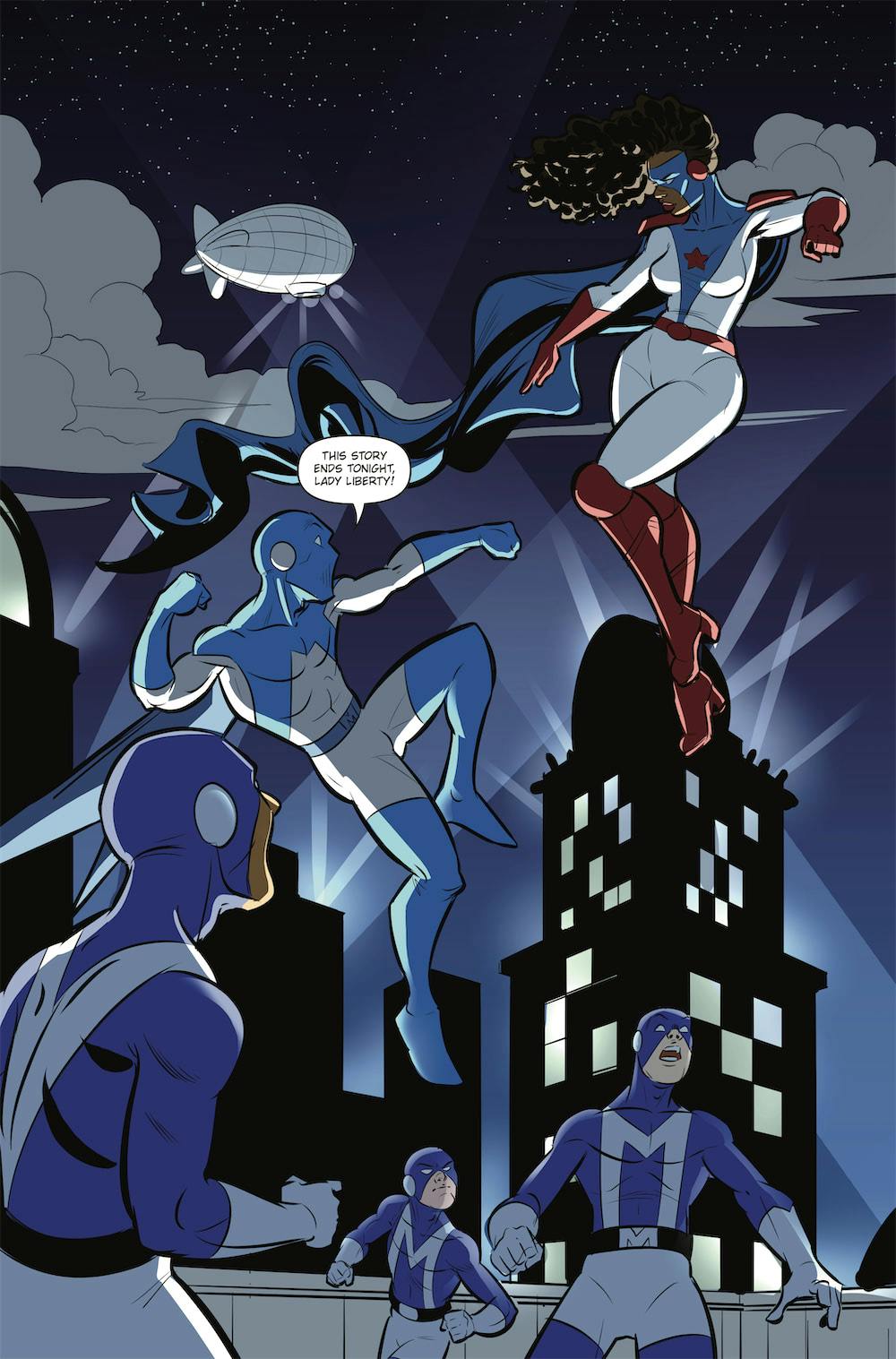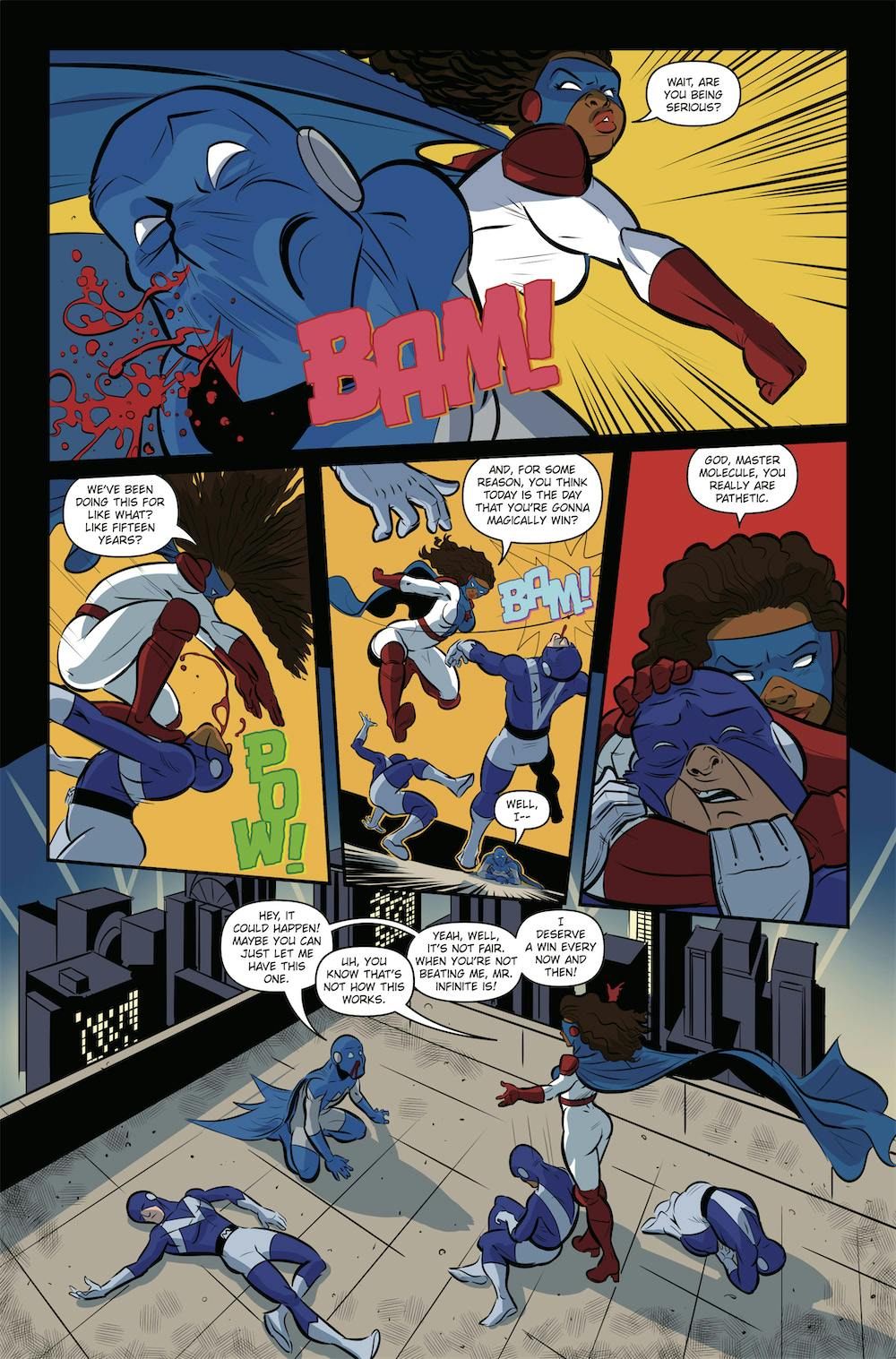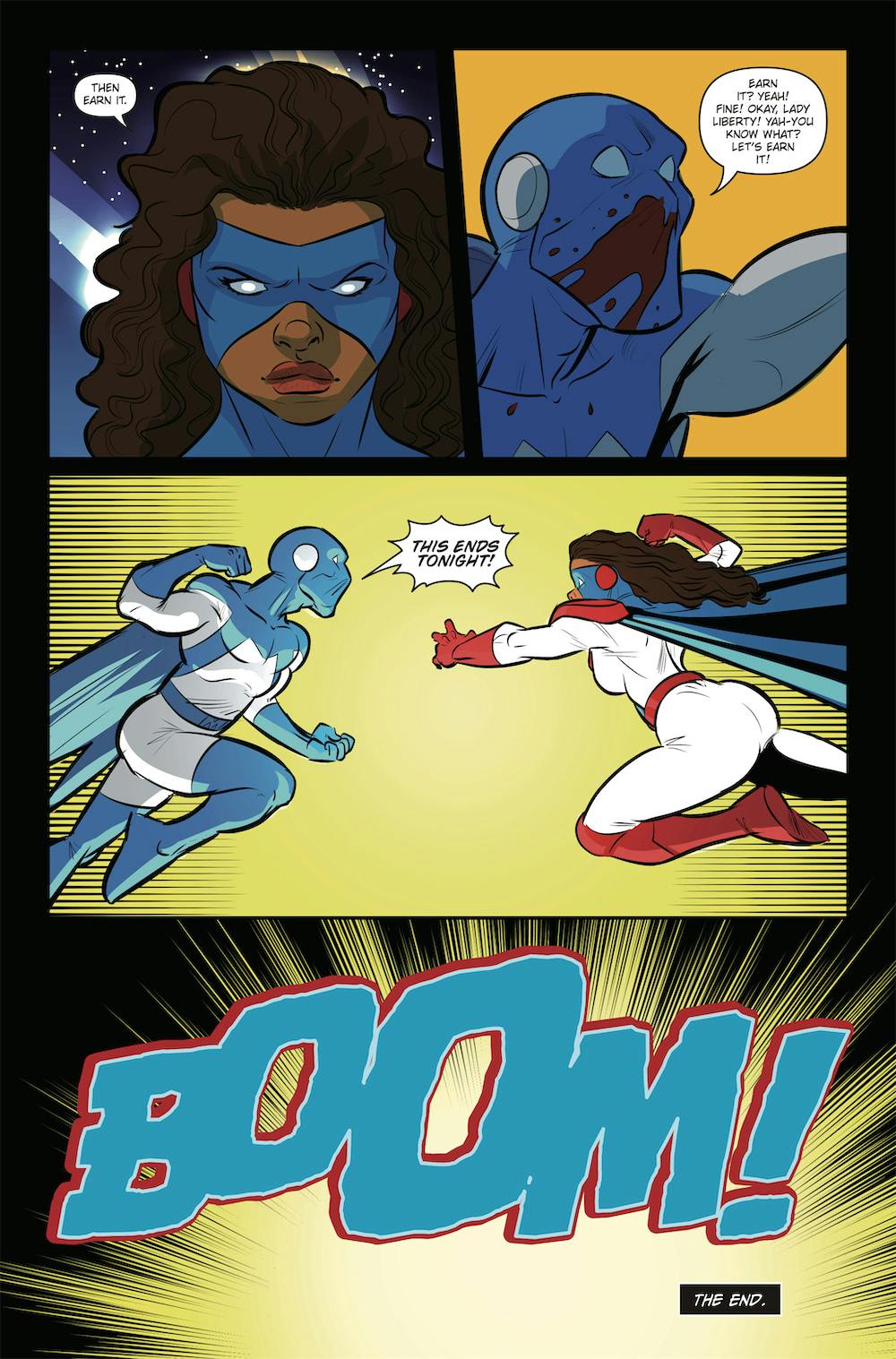 Villains, Anti-Heroes, or Victims of Society?
They say, "Do what you love, and you'll never work a day in your life." Well, no one was asking "they" for their opinion anyway, and what if what you love is nefarious villainy?
Collin Holloway aka Master Molecule is a middle-aged super villain, who has spent the last 20 years putting in his dues, but is left largely unappreciated by his boss, the city, and the broader, bad-guy community. In the above sample, you'll see Master Molecule's latest run-in with superhero Lady Liberty and one of his desperate cries for attention and fame. Things don't quite workout the way Collin intended; his professional life spirals further and further into self-loathing, depression, and existential ennui. His terrifying boss is always on his case . And just when things couldn't seem any worse, the Willy Loman of bad guys is demoted from being a "tier three" solo villain to being in a dreaded team scenario.
The biologist Edward Grant Conklin declared, "Life is not found in atoms or molecules or genes as such, but in organization; not in symbiosis but in synthesis." Paired with enthusiastic go-getter "The Spirit King" and the hulking mute "The Nite-Man", the loner Master Molecule is not in his element at all. Trapped within the constraints of a (literally) evil corporate environment, Master Molecule explores the true meaning of what being a villain is really about. This is the plot of Villains Seeking Hero (Action Lab Comics; 2020) written by Louis Southard with art by Ben Matsuya.
VHS' nihilistic, bureaucratic work place serves as a searing satire of American corporatism. Master Molecule endlessly toils for some ill-defined, passionless goal, asked to place the Secret Society's interests ahead of his own humanity. His years of unrecognized service to a vague villainous organization provides nothing, but an embarrassingly small paycheck and a false semblance of a routine that ever molecular organism so desperately craves. Master Molecule exposes that the price for his selling out of his labor is a series of never-ending humiliations (big and small) punctuated by death and destruction, while being asked to bend or break the laws of civil society.
What attracted Ben Matsuya to the project was the bone dry wit of Louis Southard and the challenge and opportunity to translate the comedy from the page. Not only is Ben able to showcase art drawn in a more classic, cartoony-style demanded of this broad humor, he also was able to work in his penchant for comic-timing throughout each panel and the absurdist scenarios. Between his much praised character expressions and an ability to draw out the geography of a space for physical gags, Ben Matsuya sets the tone for much of Villains Seeking Hero's visual humor.
There are few artists as talented and as gracious as Kyle Petchock whose art not only complemented the models from Issue 1, but enhanced them. He is truly a great artist and collaborator. It's an honor to even mentioned in the same project as David Hahn, a true master and visionary. We can't speak highly enough to the lettering work of Buddy Beaudoin who manages to make even the words look funny. Roshan Kurichiyanil seems to have the super power of making the light, shadows, and frame look perfect.
We hope you enjoy the fun of VSH. If you'r'e looking for an artist that can tell your story comedically, contact Ben Matsuya and watch your characters come to life.
Villains Seeking Hero Reviews
"Matsuya's art is loose and evocative, successfully bridging the super-powered antics with a very mundane sort of look for Collin, Master Molecule's alter-ego."
— Matthew Peterson; Major Spoilers
"Much of this quirkiness comes from Ben Matsuya's artwork. You fully understand the tone of Villains Seeking Hero from the very first page."
— James Ferguson; Comicon.com